After enduring a very bitter political ordeal, Ugandan pop star, Bobi Wine returned to the stage over the weekend.
Thousands of Ugandans attended his show in Kampala to cheer him on and enjoy his music.
Bobi Wine, known in private life as Robert Kyagulanyi was returning to the stage for the first time after his arrest and alleged torture.
There was a heavy police presence at the event although this time round there was no attempt to stop him from performing.
Bobi Wine told AFP that he thanked the "Uganda police for providing us security and not stopping us as they have always done.  We are a peaceful people but we want to be listened to."
Bobi Wine returned home from the US in September where he had gone to for medical treatment after sustaining injuries while in custody.
Thank you @eddykenzoficial ??#KyarengaBusabala pic.twitter.com/sDnKyqPSAT

— BOBI WINE (@HEBobiwine) November 10, 2018

The pop star was taken ill after his arrest and detention in August. He was arrested and detained for allegedly playing a role in an attack on the country's President, Yoweri Museveni.
Museveni's convoy was reportedly attacked while returning from a campaign rally in August. After spending days in detention, Bobi Wine's lawyers said he was tortured rendering him seriously sick.
What a day, What a Night, What a Show! THANK YOU to the tens of thousands of friends, supporters and fans who came down to One Love Beach Busabala last night for the #KyarengaConcert. pic.twitter.com/vTAzAB50xm

— BOBI WINE (@HEBobiwine) November 11, 2018
The Musician MP
Robert Kyagulanyi is a Ugandan celebrated Afrobeats star. He began his music career in the early 2000s and has been singing projecting various issues of national concern.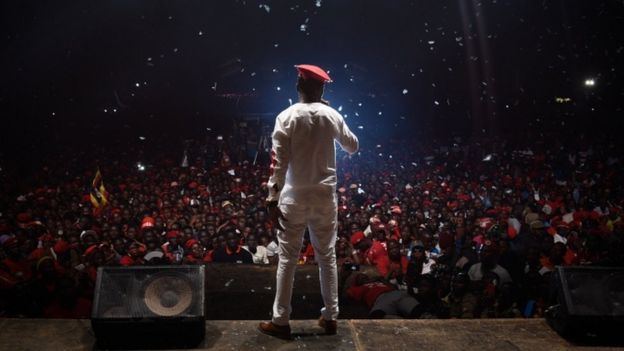 He has produced songs on issues such as freedom of speech and personal hygiene.
Bobi Wine was elected to parliament as an independent in a by-election in 2017 in Kyadondo East, central Uganda.
He calls himself the "ghetto president" since he stands up for the rights of the underprivileged.
Source: Africafeeds.com