A motorway bridge under construction in Colombia has collapsed, killing at least nine workers and injuring five others.
The bridge in Chirajara was to be part of a highway connecting the capital, Bogotá, with the city of Villavicencio.
Photos from the scene show a large part of the 450m-long bridge lying in the ravine below.
Transport Minister Germán Cardona spoke of a "tragedy" and said the cause of the collapse would be investigated.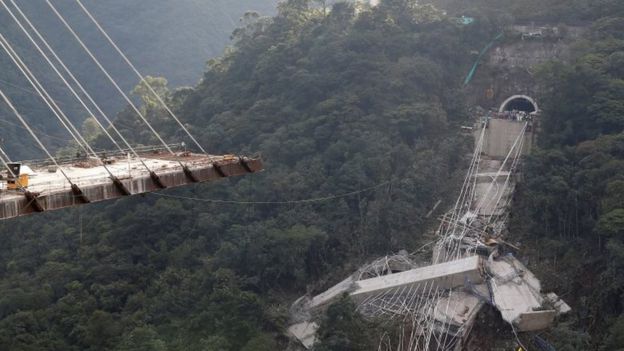 One of the workers injured in the collapse described the moment it happened.
"Everyone started shouting that the bridge was falling, I didn't have time to do anything and then I felt a blow to my head," Luis Alvarado told El Tiempo newspaper.
Construction officials said that fortunately not many workers were on the bridge at the time of the collapse as staff were receiving a safety briefing.
Source: BBC