There has been an out-pour of anger from some Ghanaian lawyers and ordinary citizens following a notice from Ghana's Chief Justice warning judges and lawyers to wear wigs in courtrooms.
The Chief Justice, Sophia Akuffo in a statement signed by her judicial secretary said "the chief justice has directed that judges wear wigs during court sittings".
That directive is to take effect from "November 1, 2017" with the Chief Justice stating that the decision was taken to "preserve the tradition and uniqueness of the work of Judges and the legal profession."
She also said the wearing of the wigs "would provide the needed protection and anonymity for judges and enhanced personal security".
Ghana's chief Justice considers as casual the non-wearing of wigs in court saying her directive is to "help restore formal nature of court proceedings and eliminate the creeping casualness in the system".
Judges and lawyers are to comply with this directive without any protest.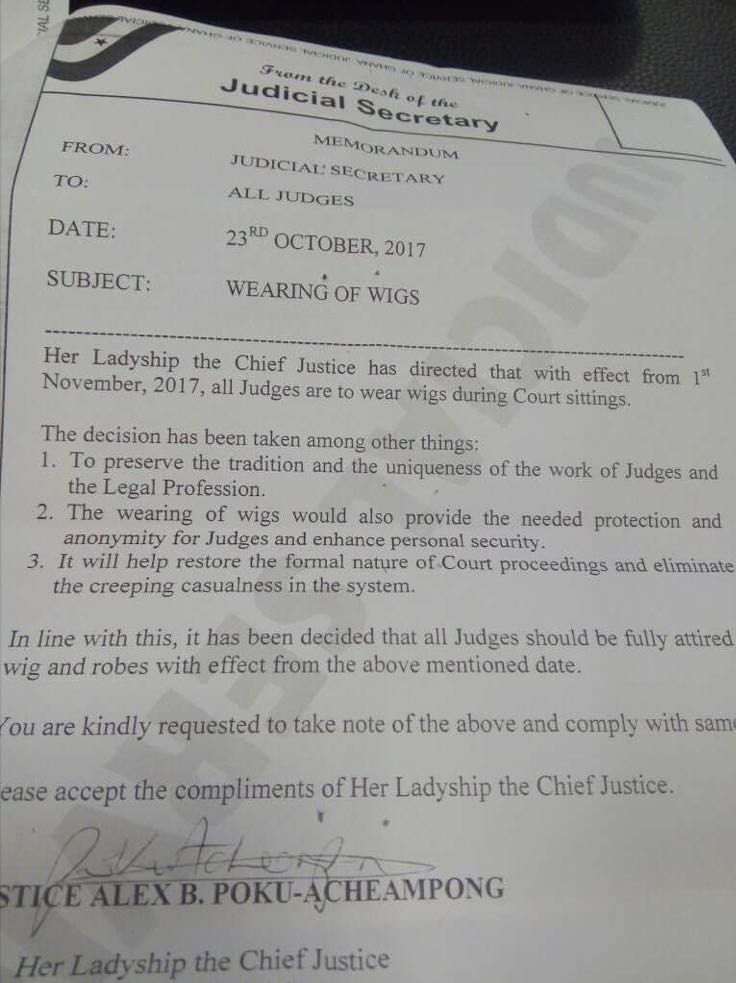 Ghana copied this practice from its British colonial masters after gaining independence in 1957. Although the British have stopped the practice, Ghana is unwilling to adopt such a reform.
The BBC in 2011 reported that the UK Supreme Court ruled that lawyers appearing at the UK's highest court will no longer have to wear the traditional wig and gown.
The Supreme Court president Lord Phillips at the time said the decision was "in line with the court's goal" to make its work "as accessible as possible".
Supreme Court justices wear no legal dress themselves already in the UK.
In Ghana, there have been reactions to this directive from the country's chief justice who assumed office just this year and is due to retire next year.
When I studied abroad in Ghana back in '03, I was shocked to find out that they still wore wigs in the legal… https://t.co/RlnU3RVJo7

— Danyahel Norris (@danorris007) September 20, 2017
Colonialism mindset dies very hard. Why do judges in Ghana still wear the wigs?

— Leonard Masilela (@LeonardMasilela) January 7, 2017
Worsening security situation in Ghana under @NAkufoAddo . Chief Justice directs that Judges take cover under wigs. @BBCAfrica @thesignalng pic.twitter.com/4iq6oY6pmV

— Kofi Adoli (@kofiadoli) November 1, 2017
Jurists and silks in Ghana still don those hideous colonial wigs. Afrika wake up. https://t.co/xGSTossjc5

— Leonard Masilela (@LeonardMasilela) October 8, 2017
Source: Africafeeds.com