Ethiopian and Eritrean leaders are meeting in Addis Ababa to resolve a long standing border dispute.
The Prime Minister of Ethiopia Abiy Ahmed greeted a delegation of Eritrean officials at Addis Ababa airport on Tuesday.
The talks have raised hoped of a possible breakthrough in a dispute considered one of Africa's most difficult military standoffs.
Historic meeting
The arrival in the Ethiopian capital of the first official delegation from Eritrea is the first in two decades.
Ethiopia and Eritrea fought a border war from 1998 to 2000 that killed an estimated 70,000 people from both sides.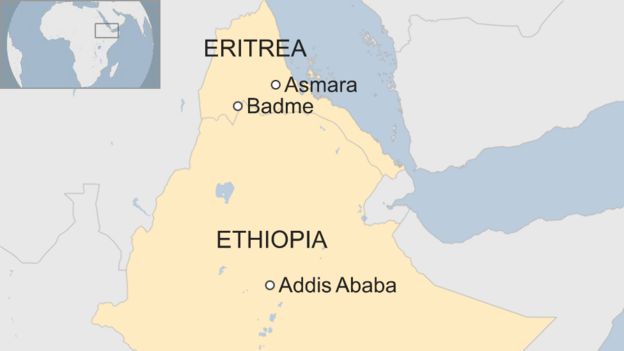 A peace accord dubbed the Algiers agreement was signed on December 12, 2000.
Despite the peace agreement a tense armed standoff ensued with the two countries engaging in clashes occasionally.
Conflict resolution moves
Ethiopia had not in the past endorsed the results of the peace agreement fully. It refused to recognize the award of the symbolic town of Badme to Eritrea.
Ethiopia currently controls the town of Badme.
Historic moment! #Ethiopia #Eritrea
"This marks the 1st high level contact nearly two decades of stalemate. HE PM Abiy will host the delegation & hopes the visit will lay the foundation for a much brighter future for." @fitsumaregaa pic.twitter.com/8DFnVOYrpP

— Addis Standard (@addisstandard) June 26, 2018

Last month the Executive Committee of Ethiopia's ruling party, passed a resolution backing the country's commitment to an unconditional implementation of Algiers peace agreement with Eritrea.
Ongoing talks will be crucial in finally resolving the crisis.
Source: Africafeeds.com