Africa has it's first black woman to have climbed to the top of Mount Everest which is the world's highest mountain.
The South African Saray Khumalo has been celebrated across the continent for such a feat.
Saray Khumalo tried but failed in the past to reach the top of the mountain in 2014, 15 and 16.
This was her fourth attempt to reach the 8,850-metre summit of the mountain.
Finally on Thursday May 16, she achieved her goal, conquering the mountain to inspire many others.
Ms Khumalo is a business executive but has for many years desired to climb the world's highest mountain.
She was born in Zambia, with Rwandan bloodline and now a South African.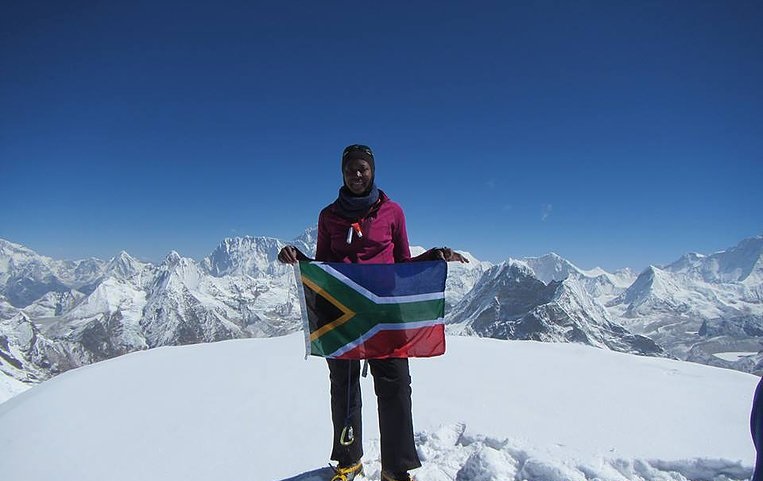 A post on Summits with a Purpose on Facebook said "In 2012 Saray summitted Mt Kilimanjaro and in the process raised funds for the Lunchbox Fund.
The mountaineering passion took hold and she embarked on a journey to climb the highest peak on each continent, not for herself but the education of African children."
Khumalo "summitted Mt Elbrus in 2014 and Mt Aconcagua in 2015. She became a Nelson Mandela Libraries ambassador and raised nearly R1m for school libraries.
After being on Everest during both the serac fall (2014) and the earthquake (2015), she reached the south summit in 2017. Through pure perseverance, grit and courage she decided to return to Mt Everest in 2019."
Celebrating Africa's first
On social media, many Africans are celebrating Khumalo for her achievement.
Bazalwane, today we celebrate #SarayKhumalo. Saray Khumalo is the first African woman who has conquered Mount Everest. Go out and make history African child. You can achieve anything! pic.twitter.com/XWkF4mP4PZ

— Christo (@ChristoThurston) May 16, 2019
She's on top of the world! Wow! Huge congratulations South Africa's #SarayKhumalo for conquering Mount Everest! You are incredible and an immense inspiration to people across the continent. African girl, nothing is impossible! ❤??? pic.twitter.com/Efw9QfZQrk

— Ulrich Janse van Vuuren (@UlrichJvV) May 16, 2019
2014: Avalanche.

2015: Earthquake.

2017: Airlifted to hospital 100m from summit.

2019: History is made.

Nothing can stop an African woman determined to rise. Truly inspiring #SarayKhumalo https://t.co/xpcCkqZmLh

— map (@adli_peck) May 16, 2019
All her summits were for a great purpose. #SarayKhumalo has raised funds for the Lunchbox Fund, became a Nelson Mandela ambassador, raised close to R1M to build school libraries, and now this summit was to support the Dr Thando Ndlovu Foundation.

— Multiply (@Multiply_SA) May 16, 2019
Congratulations #SarayKhumalo. We are immensely proud of your extraordinary achievement in conquering #MountEverest. Thank you for not only raising that flag for black women but for South Africa as well. Halala mbokodo.

— Brenda Madisha (@MadisBren) May 16, 2019
Source: Africafeeds.com