The President of Madagascar, Andry Rajoelina has launched a herbal drug that he claimed can cure the deadly coronavirus.
Rajoelina has touted the said herbal drug saying it prevents and cures the virus as he urges citizens to take it.
He ordered that the plant-based tonic be given free of charge to the most vulnerable.
Rajoelina launched the drug called Covid-Organics, produced from the artemisia plant – the source of an ingredient used in a malaria treatment – and other Malagasy plants.
Covid-Organics was developed by the Malagasy Institute of Applied Research (Imra).
Dr Charles Andrianjara, Imra's director general, told the AFP that clinical observations had shown "a trend towards its effectiveness as a curative remedy".
The President's staffers said the drug which can be accessed in a bottle and as a herbal tea was tested on about 20 people over a period of three weeks.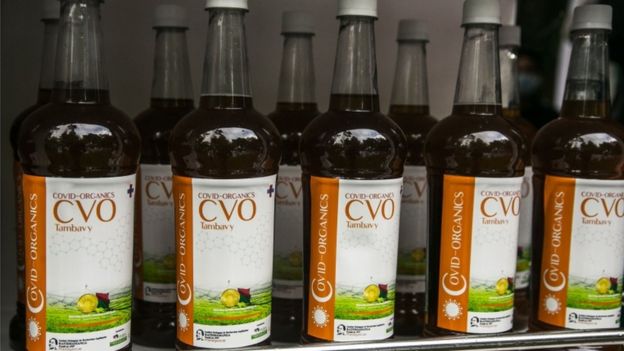 Patients cured after treatment
Rajoelina said at the launch of the drug that "Tests have been carried out – two people have now been cured by this treatment."
"This herbal tea gives results in seven days," said the 45-year-old president, who also urged people to use it as a preventative measure.
"Schoolchildren should be given this to drink… little by little throughout the day," he told the diplomats and other dignitaries gathered for the launch.
Israeli drug 'Opaganib' successful in treating patients with COVID-19
Madagascar has so far recorded 121 cases of coronavirus, and no deaths.
The World Health Organization has however cautioned against the said declaration of the herbal drug being a cure for covid-19 saying there is no proof of that yet.
Various companies are still conducting tests to develop an effective vaccine for the virus but there have some treatments on country based levels that have been effective.
Some of the drugs used have been effective against malaria and HIV/AIDS.
Source: Africafeeds.com