In 2015 British-Ghanaian architect David Adjaye unveiled plans for a 100-bed paediatric cancer centre in Rwanda.
The Gahanga International Children's Cancer Hospital was to be built on a four-hectare site in Gahanga, south of Rwanda's capital Kigali.
The world's most influential architecture, interiors and design magazine, Dezeen covered this then and its editor-in-chief Marcus Fairs spoke to Adjaye who said the hospital would be the first of its kind anywhere in Africa.
"It's really important that techniques that are very commonplace in the West are also transferable to Africa, and that lessons learned on the ground in Africa inform the practice," Adjaye was quoted as saying.
The project was to improve access to cancer treatment for children in the country.
"The building aims to promote healing and recovery for the children and their families," a statement from Adjaye Associates said.
In March this year, the same David Adjaye also revealed designs for a new cathedral in Ghana's capital Accra, which will host a 5,000-seat auditorium beneath a dramatic concave roof.
The cathedral will be his first major project in Accra.
The National Cathedral of Ghana will be constructed beside the city's Osu Cemetery, set within 5.5 hectares of landscaped gardens, according to Dezeen.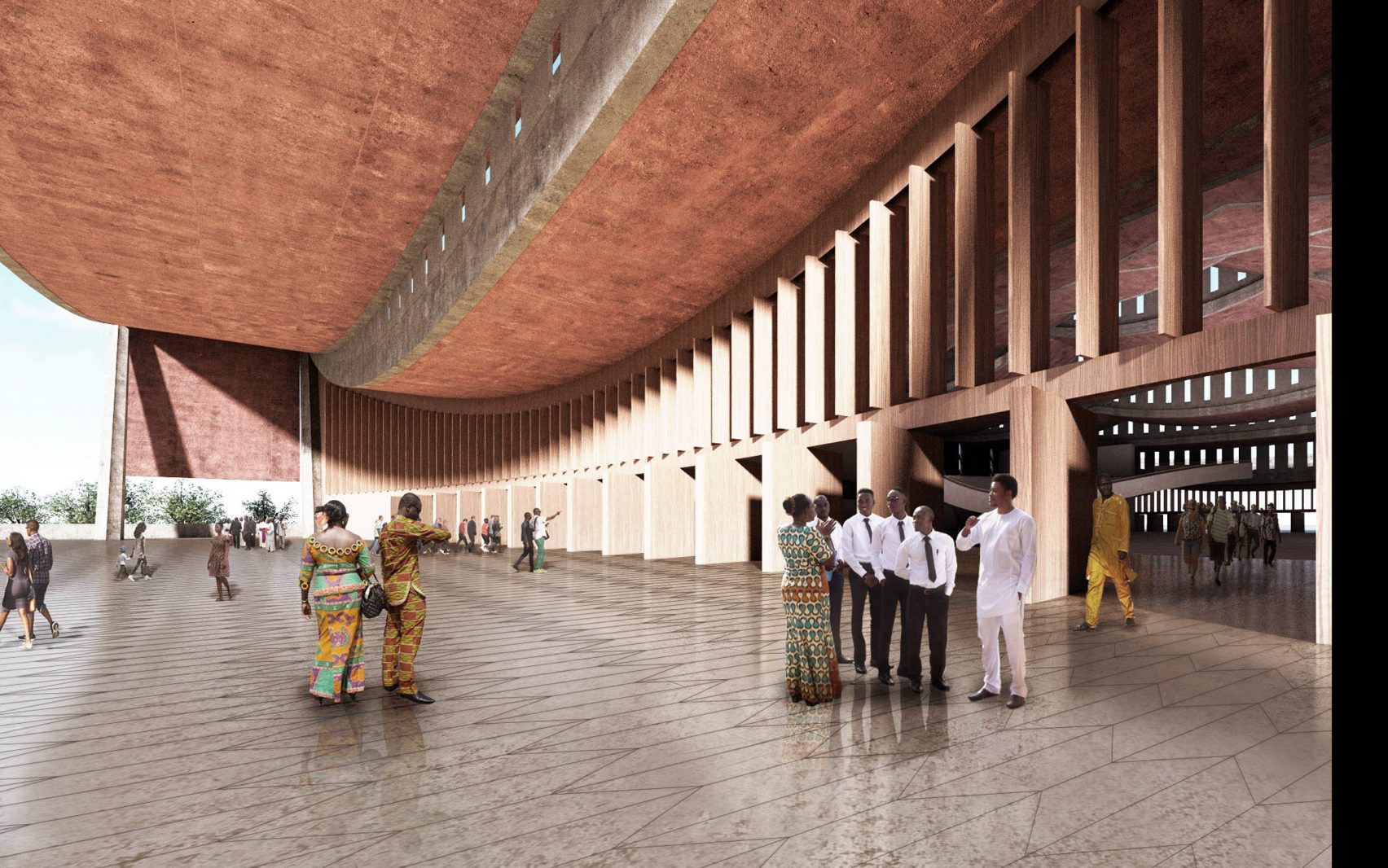 Adjaye said "It is an immense honour to be granted the opportunity to contribute something of this scale and import to my home country".
"I have sought to craft a building that not only understands its landscape, but one that will be unique to Accra and the Ghanaian nation" he added.
The design concept according to Adjaye is for a building "where religion, democracy and local tradition are seamlessly and symbolically intertwined".
But it is not Adjaye's wonderful architectural designs that are becoming a major issue but the priorities of these two nations he has worked for.
Rwanda decided to have a children's cancer treatment centre while Ghana went for a cathedral.
On social media Ghanaians who are critical of their government's priority expressed outrage.
A National Cathedral could be the answer to all of Ghana's problems.

Let's all gather there when it's done, pray fervently to God and ask for a miracle to save this country.

And Poof!! Just like that, Ghana could turn into WAKANDA ??‍♀️

— Miss Forson (@lydiaforson) March 12, 2018
Our children lack basic learning materials like chalk, not to talk of computers. Human still drinking from same river with animals.

But we want to sponsor thousands to pilgrimage, and build a national cathedral, so we can go pray to God to fix these strikingly problems

— Saddick Adams (@SaddickAdams) March 12, 2018
Misplaced priorities!!!
Children still learning on floors and under trees
And we are using tax payer's money to build NATIONAL CATHEDRAL?!?? @NanaAkuffoAdd0 @NanaAkufo_Addo I expected better from you ???

— T'Katherine?? (@kathybises) March 6, 2018
Not just any church. A national cathedral, so that instead of actually building the infrastructure needed for a more effective school system, Hospitals etc. we can go into it and pray for better education, better health care and better roads to fall from heaven. #GhanaIn2018

— Akua Awereba (@YatiNsoY3nfa) March 10, 2018
Look at how we've ZEROED down all our problems and struggles as a country to the building of a national cathedral.

— Primus inter pares (@BEARD__ED) March 12, 2018
Critics of Ghana's National Cathedral compare it to #Rwanda's children's cancer treatment centre also designed by David Adjaye https://t.co/8HdXMZmNmH which gives value for money? A church or cancer treatment centre?

— Akwasi Sarpong (@akwasisarpong) March 12, 2018
Ghana doesn't need a national cathedral. A national library, museum, cancer center or a national archives is better

— kojoGhanaBa (@gyampoh5) March 12, 2018
I think it is the Cathedral that Jesus Christ upon his return will have his first sermon. Some people are of the view we are the only group of human beings who know the Lord God.

— Sir Roger (@roger_dakey) March 12, 2018
Your home is can be a cathedral but it can not be a cancer treatment center. So you know which one is needed.

— Ruthie (@mame1st) March 12, 2018
Clearly shows where the priorities of both nations lie! I may be wrong but in this case I think we got it wrong. First things first!

— kofi kissiedu (@kmenyah) March 12, 2018
Brilliantly screwed up. We have built a Confucius Institute to boot. Not Ubuntu Institute. And we took the American and French Constitutions, "blended" them together and called it our own. Lord have mercy https://t.co/oxDEJYoxiU

— George Ayittey (@ayittey) March 8, 2018
I don't think the Ghana gov't should be involved in this. Opens the door to future construction of Grand Mosque, Buddhist Temple, etc. https://t.co/pIM91LUK5Z

— George Ayittey (@ayittey) March 8, 2018
Ike, we have no priorities as a nation, not especially when we continue to not hold the political class responsible for their actions. We are #VisionlessState #Ghana

— Patrick John Tanson (@Patrick_Tanson) March 11, 2018
Source: Africafeeds.com