Ethiopian Airlines has resumed operations to Eritrea. Pictures of the first flight to Eritrea's capital Asmara has been made public.
This is the first time in 20 years that an Ethiopian airline is traveling to Eritrea after both nations declared an end to their "state of war".
The 456 passengers traveling on the first flight include former Prime Minister Hailemariam Desalegn and his wife as well as ambassadors, civil society organisation representatives and journalists.
Mr Hailemariam told a BBC reporter that he was excited to be on the inaugural flight.
"It's a golden moment for the two countries and the two people," he added
Reopening of Embassy 
Eritrea on Monday reopened its embassy in Ethiopia's capital Addis Ababa. That further deepened efforts at restoring peace between the two nations.
Former Ethiopia PM Hailemariam Desalegn and former First Lady Roman are also traveling to Eritrea in Ethiopian Airlines' first flight to Asmara since 1998 pic.twitter.com/3utH5pAiMO

— Aaron Maasho (@AaronMG) July 18, 2018

The brief ceremony for the reopening of the embassy was witnessed by Ethiopia's Prime Minister Abiy Ahmed and Eritrea's President Isaias Afwerki.
Eritrea's president, Isaias Afwerki made a historic visit to Ethiopia last week.
The visit was to finally cement engagements that have taken place to restore peace between the two nations.
The clock is ticking for our historic flight to #Asmara. #Familyreunion #Ethiopia #Eritrea pic.twitter.com/EEWIo67uhj

— Ethiopian Airlines (@flyethiopian) July 17, 2018

Prime Minister Ahmed also paid a visit to Eritrea where series of agreements were made to restore diplomatic ties.
Ethiopia and Eritrea restored diplomatic and trade ties last week after peace talks in Eritrea's capital.
Ethiopian officials say direct international telephone connections have been restored between the two countries.
The restoration is "for the first time after two decades".
Complimentary roses and champagne handed out on first day of restarted Ethiopian Airlines route from Addis Ababa, #Ethiopia to Asmara, #Eritrea. First day of flights in 20 years. pic.twitter.com/VGxi8IN5bS

— Chris Stein (@ChrisJStein) July 18, 2018

End of War
Ethiopia and Eritrea fought a border war from 1998 to 2000 that killed an estimated 70,000 people from both sides.
A peace accord dubbed the Algiers agreement was signed on December 12, 2000.
Despite the peace agreement a tense armed standoff ensued with the two countries engaging in clashes occasionally.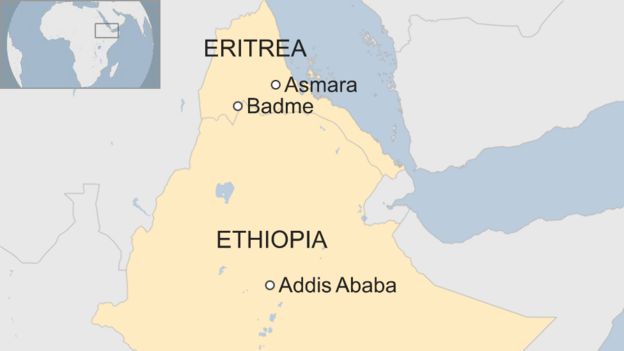 Source: Africafeeds.com