US First Lady Melania Trump who is visiting Kenya has been given a baby elephant at an elephant orphanage in the capital, Nairobi.
She arrived in Kenya on Thursday evening from Malawi to continue her Africa tour. Friday marks her full day of visit to the country.
Mrs. Trump has been touring some of the Kenya's wildlife sites. She watched the elephants being fed and also stroked them.
The David Sheldrick Elephant Orphanage gave her one of the elephants. Mrs. Trump however cannot travel back to the US with the elephant.
She will however receive regular updates on the elephant's health and can visit it at any time in the future.
Mrs. Trump is also expected to watch a performance at the National Theatre. She will conclude her visit in Egypt.
On Thursday, her husband, President Donald Trump said she is much loved by the people of Africa.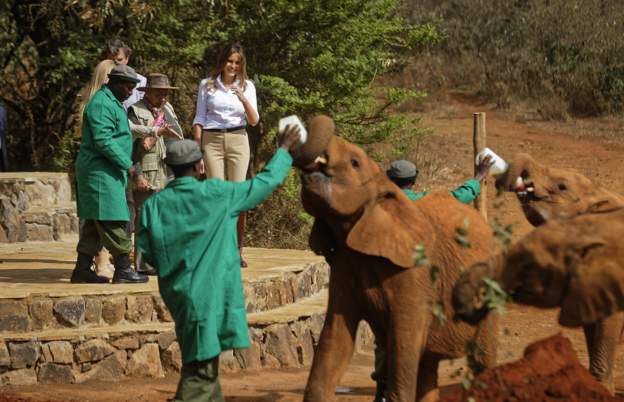 In a tweet Mr. Trump wrote that has his wife Melania Trump "is doing really well in Africa. The people love her, and she loves them! It is a beautiful thing to see."
Mrs. Trump on Tuesday arrived in Ghana where she started her Africa tour from. She visited a hospital and a slave castle in the central part of Ghana.
She flew from Ghana to Malawi on Thursday and visited a school as he promotes her Be Best campaign.
Source: Africafeeds.com