Algeria's President, Abdelaziz Bouteflika on Monday decided against seeking re-election after weeks of protests.
The 82 year old who is confined to the wheel chair returned home on Sunday from Switzerland.
He had been living in Switzerland undergoing medical treatment at a hospital.
Bouteflika has been under intense pressure to exit power for weeks.
He had earlier refused to give up insisting he will contest next month's general elections.
As one of the oldest world leaders, Bouteflika was hoping to seek a fifth term in office.
Threat from Judges
More than 1,000 Algerian judges threatened not to supervise April's election if Bouteflika takes part.
The Judges issued the threat in a statement on Sunday after Bouteflika returned home.
"We announce our intention to abstain from … supervising the election process against the will of the people, which is the only source of power," the statement read.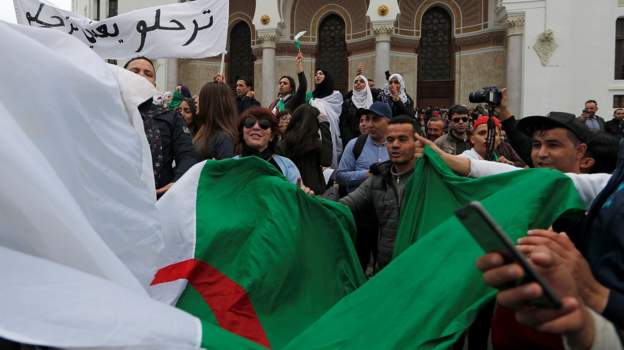 Bouteflika reportedly suffered stroke in 2013 and hardly makes public appearances. He has been in power for 20 years now.
Despite not in good health he was bent on securing another term. Opposition parties had doubts whether he is fully in charge of affairs.
Bouteflika is leading a rich oil and gas-exporting country.
Success of protests
It had appeared weeks of protests against Bouteflika were not going to make any impact.
But Monday's news of him pulling out of the election has brought joy to many Algerians.
Elections will now be delayed according to Algerian officials following Bouteflika's withdrawal from the race.
Reactions
There have been reactions to Bouteflika's decision not to seek a fifth term in office.
Surprised this guy can still make it to the "pull out" stage.

— TweetPerson (@Almgharrid) March 11, 2019
Despite pulling out of the race for 5th term,Bouteflika will be kicked out from office so soon.

— Owen Chipen (@wa_chipen) March 11, 2019
…people power….#GoAlgeria!

— o.s (@lagoschic) March 11, 2019
Is it due to popular protests or because the guy is 1564 years old? ?

— SYRIANS RISE UP (@SyriansRISE_UP) March 11, 2019
Source: Africafeeds.com