Pope Francis on Thursday spent most of the day during his visit to Mozambique urging citizens there to nurture peace to make it last.
The pontiff spent time with warring factions in the Southern African country where a recent peace accord was signed to formally end years of civil war.
The Pope said to the gathering that "Peace must be the norm and reconciliation the best way to face the country's difficulties,".
Peace was like "a delicate flower", according to the Pope who said it has struggled to blossom on "the stony ground of violence".
The Pope urged political leaders in Mozambique to do away with fanaticism and create equal opportunities for all.
"Without equal opportunities, the different forms of aggression and conflict will find a fertile terrain for growth and eventually explode," he said.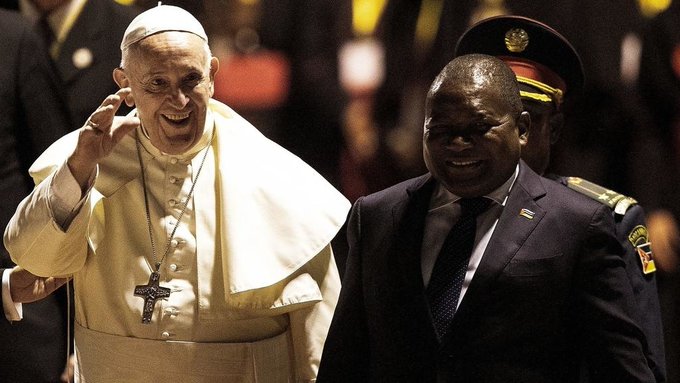 During an interfaith meeting of youth groups in the capital, Maputo, the pontiff said "Many of you were born at a time of peace, a hard-won peace that was not always easy to achieve and took time to build.
Pope Francis travels to Mozambique as a part of his multi-day visit to Africa. pic.twitter.com/K2xsQjuTMn

— The Hill (@thehill) September 5, 2019
"Peace is a process that you too are called to advance, by being ever ready to reach out to those experiencing hardship."
Prior to his trip to Mozambique, there was a controversy over the cost of his visit.
The Mozambique government said it would spend about $325,000 on preparations for the visit.
Foreign Minister Jose Pacheco told Radio Mozambique that "There is a basic budget but it is being adjusted, considering that when things like this are being done, there are occasional situations which need to be dealt with."
He is due to also visit Madagascar and Mauritius during this trip to Africa.
Source: Africafeeds.com