Serena Williams has revealed why she has a big butt in a tweet. The American is often admired by some of her fans for her physical outlook including her butt.
Serena is a big proponent of the "Strong is the new skinny" movement, favoring flexing biceps over minuscule waistlines.
Her thick, burnished legs look amazing when revealed in a bikini dress.
The 23-time Grand Slam singles champion believes that it is important to give confidence to the next generation to own their personalities with pride.
She said in a recent interview with TIME that "Giving them [other women] that confidence, that motivation, is something that has literally never been done."
According to Serena Williams "You don't let the world decide beauty. And me being thicker or whatever, I mean, curves are popular now. Butts are popular. I'm trying to lose mine, and people are trying to get mine."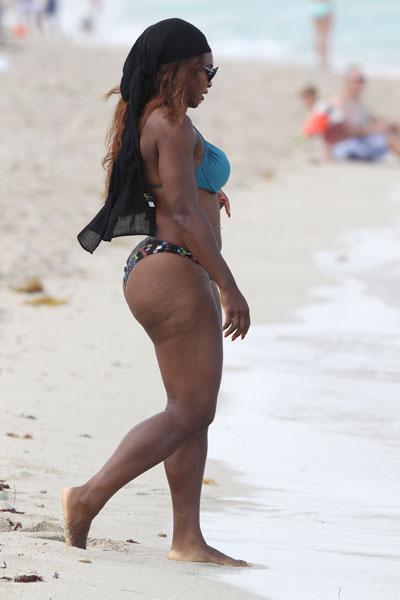 In a tweet she revealed that she may have found why her butt is that big. The secret according to her could be from the eating of popcorn.
She said in a tweet that "I think popcorn is making my butt bigger".
I think popcorn is making my butt bigger. ??

— Serena Williams (@serenawilliams) September 23, 2019
Fans react
Shortly after posting that tweet, her fans took turns to react.
You say that like it's a bad thing.

— MAGAt Smasher (@TauntTeabaggers) September 23, 2019
what brand? i'm trying to see something ?

— cristina yang (@_petagayle) September 23, 2019
This really just made us laugh mid #Emmys — thank you, thank you, thank you!

— Access (@accessonline) September 23, 2019
Serena, I think I can speak for the masses. Please eat on ????

— William Brown (@WillB_Great) September 23, 2019
Curvy body shape
In July this year Serena Williams said that she received a lot of criticisms for her curvy body shape.
The super star athlete also admitted that besides being "bodyshamed", she has also been "paid unequally" because she is a woman.
In a first hand essay she wrote for Harper's Bazaar Magazine, Williams said "I have been shamed because of my body shape. I have been unequally because of my sex."
Source: Africafeeds.com