An investigation into South Africa's President Jacob Zuma has found evidence of possible corruption at the top level of his government.
In the report, former Public Protector Thuli Madonsela recommends Mr Zuma establish a judicial commission of inquiry within 30 days.
Mr Zuma is accused of an improper relationship with wealthy businessmen.
He had tried to block the release of the report, but dropped his court bid on Wednesday.
The president and ANC leader has been dogged by corruption allegations for more than a decade, but has repeatedly denied any wrongdoing.
Undue influence?
The 355-page report calls for further investigation into potential abuses, including the purchase of a mine by Tegeta, co-owned by the president's son, Duduzane Zuma.
"If [Mineral Resources Minister Mosebenzi] Zwane travelled in his official capacity to support Tegeta's bid to buy the mine his conduct would give Tegeta an unfair advantage over other interested buyers," the report notes.
"Further, it is potentially unlawful for the minister to use his official position of authority to unfairly and unduly influence a contract for a friend… This scenario would be further complicated if his actions were sanctioned by the president."
Ms Madonsela investigated allegations that Mr Zuma let the wealthy Gupta family – who co-own Tegeta – wield undue influence in his government.
Her investigation was triggered by allegations from Deputy Minister of Finance Mcebisi Jonas that the Gupta family had made "a mockery of our hard-earned democracy" by offering him the finance minister's post last year.
The report reveals Mr Jonas told the public protector he was offered 600m rand (£36.2m/$44.6m) in an account of his choice by Mr A Gupta if he agreed to become finance minister.
The report continues: "He asked if Mr Jonas had a bag which he could use to receive and carry R600,000 in cash immediately, which he declined."
There has not been any immediate reaction from Mr Zuma, his family or the Guptas. All had previously denied that claim.
However, an earlier statement from the president's office said the decision to abandon a court bid to block the report's release was made "in the interest of justice and speedy resolution of the matter".
"The president will give consideration to the contents of the report in order to ascertain whether it should be a subject of a court challenge."
Opposition parties, who had challenged Mr Zuma's move, are now demanding that he pays their legal costs.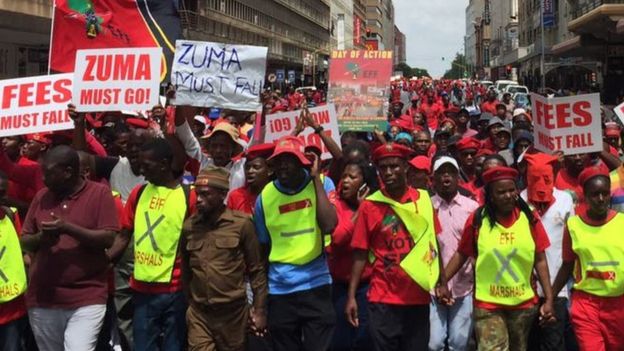 Mr Zuma has already survived one investigation into whether or not he "unduly benefited" from government money used to upgrade his private rural home.
It led to widespread calls for Mr Zuma to resign, but he survived an impeachment vote in parliament after ANC MPs rallied behind him.
But the calls were growing once more on Wednesday, as thousands gathered all over the country to demand he step down.
Source: BBC