A strong earthquake of magnitude 8.1 has struck in the Pacific off the southern coast of Mexico, killing at least five people.
The epicentre was about 87km (54 miles) south-west of the town of Pijijiapan and at a depth of 70km, the United States Geological Survey said.
A tsunami warning has been issued for Mexico, Guatemala, El Salvador, Costa Rica, Nicaragua, Panama and Honduras.
The quake was felt in Mexico City, with people running into the street.
The tremors there, about 1,000km from the epicentre, were reported to have lasted up to a minute.
Two deaths were reported in Mexico's Chiapas state, closer to the epicentre, and two more in Tabasco state.
Guatemala's president also reported at least one death in his country.
Damage was reported to buildings in southern Mexico and in Guatemala.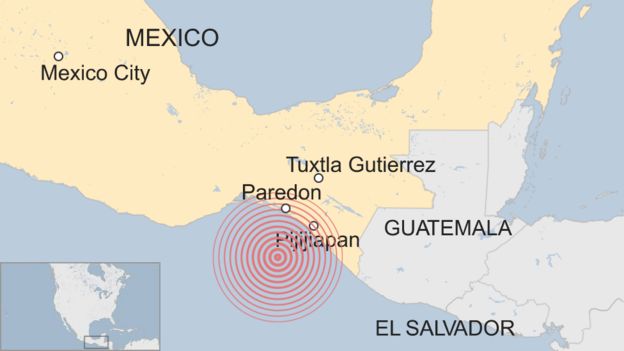 The Pacific Tsunami Warning Center said that tsunami waves "reaching more than three metres above the tide level are possible along the coasts of Mexico". There is a coastal evacuation in Chiapas state.
Mexican President Enrique Peña Nieto tweeted that he was in contact with the country's centre for disaster prevention. Schools have been closed in Mexico City and Chiapas state.
If confirmed at magnitude 8.1, the quake would be bigger in strength to those that struck Mexico in 1995 and 1985. The latter hit close to Mexico City and caused thousands of deaths.
The Mexican interior ministry has given the latest quake a higher magnitude, of 8.4, which would be the highest the country has ever recorded.
A series of aftershocks ranging from 4.3 to 5.7 in magnitude have been recorded closer to the Mexican coast, off the town of Paredon.
Some electricity cuts have been reported in the capital but there are no reports of major damage there.
One visitor to the city, Luis Carlos Briceno, told Reuters: "I had never been anywhere where the earth moved so much."
Resident Liliana Villa, who fled her apartment, said: "It felt horrible, and I thought, 'this is going to fall'."
Guatemalan President Jimmy Morales appealed for calm on national television and in a Twitter post.
"We have reports of some damage and the death of one person, even though we still don't have exact details," Associated Press quoted Mr Morales as saying.
No tsunami warning has been issued for the US west coast.
Mexico is currently also being threatened on its eastern coast by Hurricane Katia.
The category one hurricane is about 300km south-east of Tampico and has sustained winds of 140km/h the National Hurricane Center says.
BBC