There has been heavy deployment of security forces across major cities in the English-speaking areas of Cameroon on Sunday in an attempt to block planned anti-government protests.
Lat Friday authorities in Cameroon banned public meetings and gatherings in the Anglophone part of the country as demands for independence continues.
Officials have said allowing for such protests for independence will threaten the unity of Cameroon which is largely a Francophone country.
Supporters of the independence struggle have planned to hold rallies on Sunday which happens to be the day Cameroon's unification was secured 56 years ago.
But Reuters reported that businesses were shuttered in the regions' main cities, Buea and Bamenda, where military helicopters circled overhead.
A resident of Buea, one of the English speaking communities told Reuters that "I now know that the Biya regime has been raising an army all these years to fight its own people."
"We are simply fighting for our rights but the military, which is supposed to protect lives and property, has turned into our greatest nightmare," she is quoted as saying.
Cameroon's Communications Minister Issa Tchiroma Bakary told Reuters on Sunday that "The media must not encourage those who advocate division, who want to destroy and destabilise our country," as he signals the government's resolve to shut down media houses that give voices to pro-independence activists.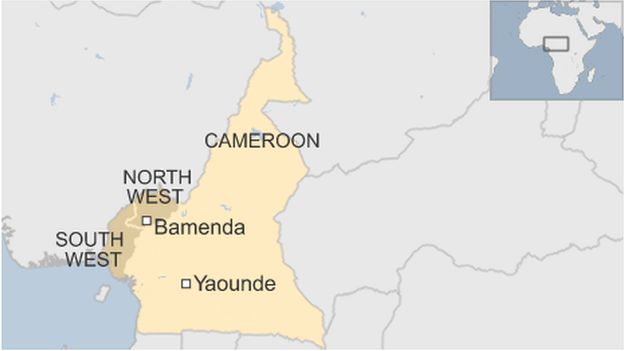 Those living in the English speaking areas in Cameroon have accused the Francophone majority of discrimination.
Their concerns ranges from not getting jobs opportunities and having legal systems in French language imposed on them.
Those claims have been rejected by the government. There has been a crackdown on such dissents as well in the pats months.
Cameroon was colonised by Germany but was split into British and French areas after World War One.