Zimbabweans on Monday gathered in Africa Unity Square near the country's Parliament and prayed to God to touch the heart of their President Robert Mugabe to step down.
The prayer meeting is to be held each day until President Mugabe resigns as pressure mounts on the 93 year old leader to cede power.
One of the organizers of the event Doug Coltart, and the organiser of #ThisFlag, campaign said "We want Mugabe to step down. We want him to go peacefully".
On Sunday the Zanu-PF party passed a resolution to remove Robert Mugabe from the position of president of the party and urged him to resign.
A deadline of 10:00 GMT on Monday set by the Zanu-PF for Mugabe to resign elapsed without any signal of the revolutionary leader exiting power.
On Sunday many were expecting President Mugabe to announce his resignation in a televised speech, but he shocked many by avoiding the crisis and rather calling for peace and unity.
The youngest son of President Robert Mugabe has said that his father cannot be fired or sacked as has been done by the ruling Zanu-PF party putting pressure on the 93 year old leader to step-down.
Chatunga Mugabe the youngest son of President Mugabe has written for the first time about the crisis on his Facebook page saying the governing party Zanu-PF "is nothing without President Mugabe".
"You can't fire a revolutionary leader! Zanu-PF is nothing without President Mugabe'" he said.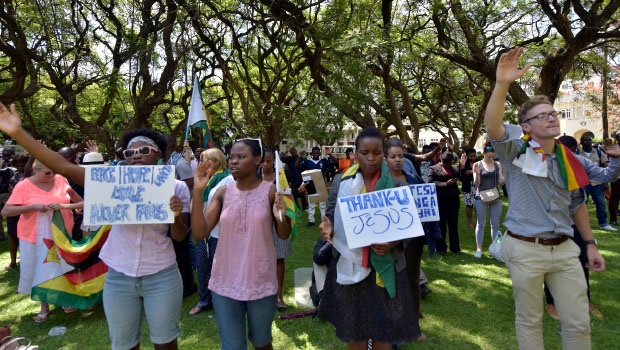 The war veterans of the country have now signaled another street protest on Wednesday if Mr. Mugabe does not exit power.
Impeachment processes have also been initiated by the Zanu PF in the country's parliament to force out Mr. Mugabe who has been ruling Zimbabwe since 1980.
He has been charged with letting his wife "usurp constitutional power" with the process expected to start on Tuesday.
Source: Africafeeds.com