The president of Zambia, Edgar Lungu received a tennis racket from tennis star, Rodger Federer on Sunday as part of the tennis legend's visit to the Southern African country.
Roger Federer is currently on a charity tour of Africa as part of the work of his tennis foundation which is focusing on investing in the education of under privileged children.
The Swiss tennis great signed the racket at the request of Edgar Lungu and then said he was "happy to be here (Zambia). I have a heart for Africa with my mum being South African".
Federer whose foundation has been promoting education in Africa for 11 years now told President Lungu that he wants to use sport to improve early childhood education.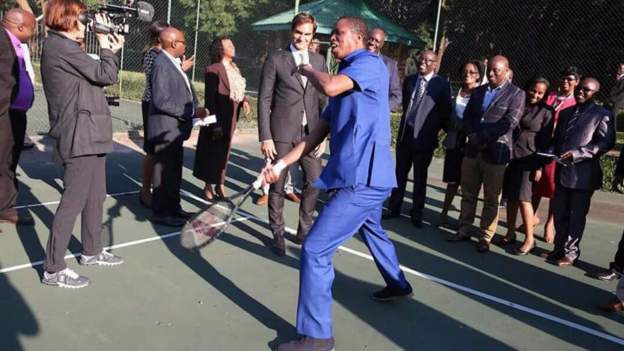 The main opposition party in Zambia has already filed a motion pushing for the impeachment of President Edgar Lungu.
The opposition is accusing President Lungu of constitutional breaches with the motion filed by the opposition United Party for National Development (UPND) getting signatures from a third of the members of parliament.
Source: Africafeeds.com