For years fighting between government troops and rebels in South Sudan has left many killed and millions displaced.
Several peace deals to end the fighting have failed in the past plunging the country's economy into an abyss.
The economy is virtually on its kneels begging for revival. On Sunday a new peace deal was again signed by the warring parties in Sudan.
During that signing ceremony, Sudan's president Omar al-Bashir told Sudan State TV that "one of our goals is the need to save the economy of South Sudan because it has reached a level of collapse".
President Salva Kiir and his longtime rival and rebel leader, Riek Machar were at the signing ceremony.
Kiir admitted that his country's economy was in crisis. "My government and I know the conflict in South Sudan has resulted in a financial and political burden," Kiir said.
Citizens hopeful of revival of economy
What many South Sudanese are hoping for is that this latest peace deal should bring some relief.
John Kenyi, 30, a newspaper vendor in Juba is quoted by Reuters as saying that "What people want is services. People want peace. People want their children to go to school.
(They want) hospitals and security and clean water. These are things now citizens are hoping for from our leaders."
Another woman Sarah Duku, a 38-year-old mother of three told Reuters that "We hope that the parties come back to South Sudan and implement it this time.
As the mothers of this country we need peace so that our economy can improve."
Sudan's government has revealed that oil would be pumped from South Sudan's Unity State through Sudan for export from September 1.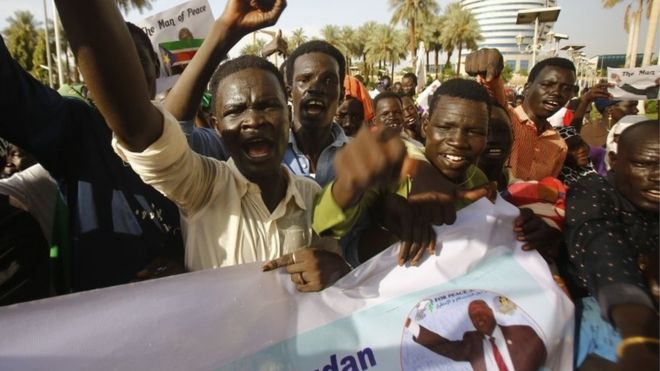 New peace deal
The new deal will provide for five vice presidents for South Sudan and protect a power sharing arrangement.
Per the deal former Vice-President Riek Machar is expected to return to his former position.
The transitional government would govern for three years.
What the leaders have been saying
President Kiir said at the signing ceremony that he calls "on everyone as a leader of South Sudan that this agreement which we have signed today…. be the end of the war and the conflict in our country."
"My government and I know the conflict in South Sudan has resulted in a financial and political burden,"
"We must accept that the internal war has no meaning and has imposed suffering on us and our families and has killed hundreds of our young men and women, destroyed our economy, and left us divided," Kiir said.
Rebel leader Riek Machar also remarked that "today we celebrate, not just in South Sudan, but throughout the world."
"there is no option but peace … we have to focus after this stage on implementing the agreement that if we don't implement, we will all be failures."
Thousands of people have died in the 2013 civil war after troops loyal to the rebel leader Machar clashed with government troops.
South Sudan gained independence in 2011 from north Sudan but fighting broke out two years later.
Source: Africafeeds.com