Ghanaian authorities have given a statue of former Indian leader Mahatma Gandhi a new home in the capital, Accra.
The statue was pulled down last year in a Ghanaian University. Students and lecturers had claimed it was a symbol of racism.
The statue was first unveiled in June 2016 by the President of India Pranab Mukherjee at the University of Ghana campus in the capital Accra.
It was to be seen as a symbol of the close friendship between Ghana and India.
The statue however became a centre of controversy after a group of professors in the University called for it's removal.
In a petition signed by more than 1,000 people for the removal of the statue, petitioners said Gandhi was racist.
Finding a new home
On Wednesday Ghana's government decided to relocate the statue. It has now placed it at a centre called the Ghana-Indian Kofi Annan Centre for Excellence in ICT in Accra.
Ghana's Minister for Foreign Affairs and Regional Integration, Shirley Ayorkor Botchway eulogized Gandhi at a ceremony to unveil the statue.
She said "I am proud to say that the bond between Ghana and India have been well-nurtured over the years.
Mahatma Gandhi is, no doubt, a great son of India, who is admired all over the world as one of history's most transformative and inspirational figures."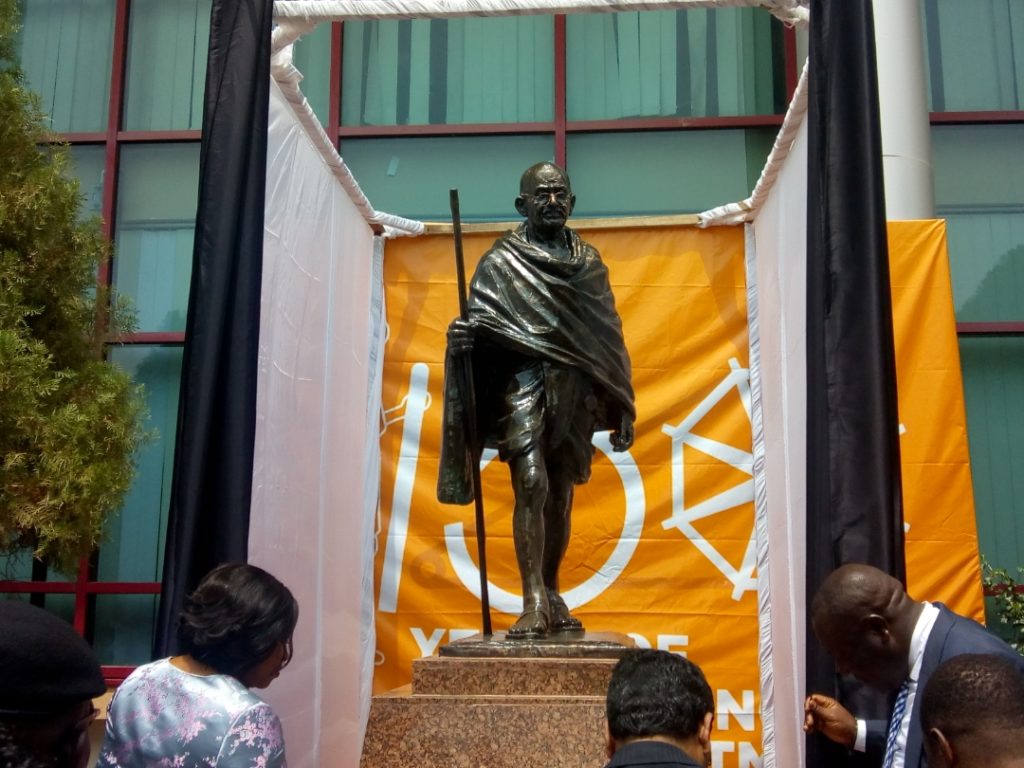 The unveiling according to Indian officials is part of activities to mark the 150th birthday of Mahatma Gandhi. That falls on October 2.
Mr. Birender Singh Yadav, the Indian High Commissioner to Ghana said Ghandi's "teachings are still the touchstone to measure our policies and initiatives".
Controversial statues
Statues on university campuses have recently provoked rancorous arguments in Africa.
Students continue to wrestle with the legacy of colonialism and history of racism on the continent.
Last year students in South Africa successfully campaigned for the removal, from the University of Cape Town campus, a statue of Cecil Rhodes, a notoriously racist mining magnate who died in 1902.
A statue of Gandhi in the centre of Johannesburg not far from the office where he worked as a lawyer, triggered a similar row in 2003.
Source: Africafeeds.com