Malawians are voting on Tuesday for a new president in a crucial presidential election.
Incumbent President Peter Mutharika is seeking re-election but faces tough challenge from his former vice-president, Saulos Chilima and other key contenders.
There are seven candidates though in the race for the presidency but three of them, Peter Mutharika, Saulos Chilima and Lazarus Chakwera are the main contenders.
President Peter Mutharika who is 78 years of age came into power in 2014 after winning the presidential election.
Two years earlier his elder brother Bingu wa Mutharika died from heart attack while in power.
Despite promising to deal with corruption just before he became president, Mutharika has faced many scandals.
He is accused of receiving $200,000 from a businessman who was under investigation for a multi-million-dollar deal to supply food to the police.
His tenure has also witnessed food shortages, power outages and an economic crisis. Some have also questioned his health.
Election Day in Malawi.
Copy of the Presidential election Ballot Paper.
President Mutharika is vying for a second 5yr term.
Malawians are also voting for a new parliament and local government councillors. pic.twitter.com/IlAX1ulrhV

— Samira Sawlani (@samirasawlani) May 21, 2019

Toughest challengers
Mutharika's toughest challenge is coming from Saulos Chilima who was Mutharika's running mate in 2014.
He became vice-president but fell out with his boss, Mutharika last year and has since exited the ruling party to form his own.
Chilima, a youthful 46-year-old has now set up the United Transformation Movement (UTM) party to contest the election.
But the main opposition is being led by former evangelist Lazarus Chakwera who is 64 year old.
Chakwera is leading Malawi's oldest party, the Malawi Congress Party, into the election.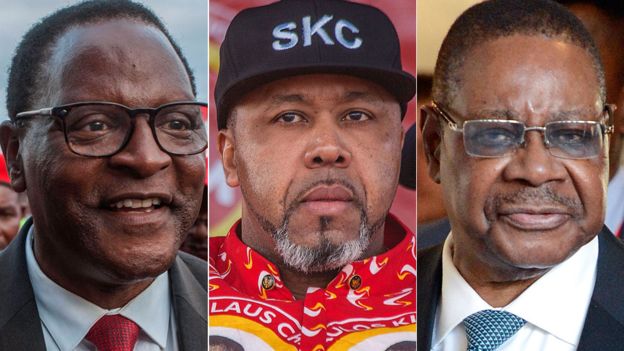 The Malawi Congress Party was in power from 1964 to 1994 during Hastings Banda's one-party rule regime.
Lazarus Chakwera was the leader of the party during the 2014 elections. He came second to Mutharika during the votes and will be hoping to win this time round.
The winning candidate needs to secure more than 50% of votes cast.
Some seven million registered voters are voting to also elect new members of parliament and local councillors.
Source: Africafeeds.com