At least 30 people are reported to have been killed after Boko Haram militants detonated a triple suicide bomb.
The incident occurred in the northeastern Nigerian town of Konduga, according to emergency service officials.
On Sunday three bombers were reported to have detonated their explosives at a place where football fans were watching a match on TV.
Forty others are also reported to have been wounded in the attack.
"The death toll from the attack has so far increased to 30. We have over 40 people injured," Usman Kachalla, head of operations at the State Emergency Management Agency (SEMA), said on Monday.
A resident of Konduga, Ali Hassan told AFP news agency that "There was a heated argument between the operator and the bomber who blew himself up".
Two other attackers who were nearby then set off their devices, Hassan further narrated.
Boko Haram continues to attack many communities in Nigeria forcing millions to flee their homes.
More than 27, 000 people have been killed over two million forced to flee their homes.
Even soldiers helping to defeat these militants have often fallen victim with scores of them killed in the process.
Nigeria's government is yet to win the battle against the group, likewise countries in the Lake Chad region, where similar attacks do take place.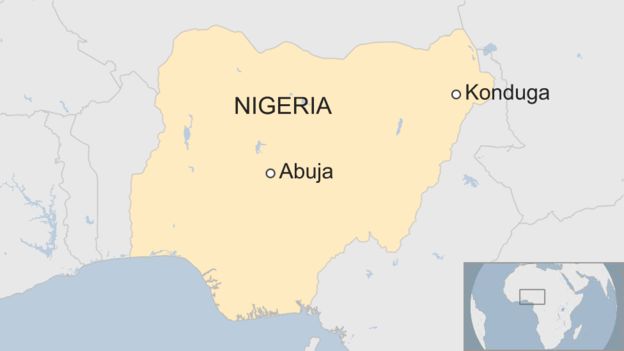 The leaders of countries in the region last December vowed to push for the quick implementation of a Regional Stabilisation Strategy in the areas to deal with the crisis.
The leaders also resolved to roll out the Quick Impact Projects (QIPs), aimed at providing immediate relief to the communities affected by the Boko Haram insurgency.
Source: Africafeeds.com