Kenyan aviation officials have denied some teenagers the chance to land their homemade plane in Nairobi.
Twenty South African teenagers have teamed up to build their own four-seater aircraft so they can travel across Africa.
They succeeded in building the aircraft and last month started that journey of traveling across the continent in it.
The plan was to fly in the plane covering over 10,000 km across countries like Namibia, Zimbabwe and Malawi.
The group has done so flying through Tanzania, Ethiopia and Eritrea and is now set to end the tour by landing in Egypt.
But the team was unable to get the clearance to land in Nairobi due to issues related to routing.
Delayed schedule
BBC quotes team leader Des Werner as saying that "The authorities in Kenya say they were not happy with our routing and thus denied us entry."
Des Werner is the father of 17-year-old Megan Werner, founder of U-Dream Global.
He said "We do have the option to change routings but we just don't have the time for it. Our feeling is that if they are difficult then we just don't go there. It is after all their own country that misses out in terms of our team interacting with and inspiring youth in their country."
"We are slightly behind schedule but will catch up. If all goes well we hope to be in Cairo around 7 July," Mr Werner added.
The teenagers also plan to make a stop in Uganda, Rwanda and Zambia on their way back to South Africa.
17-year-old pilot Megan Werner who is the team leader had said that the team was in good spirits. She adds that flying conditions have generally been good.
Building an aircraft
The teenagers are from various backgrounds and from all parts of South Africa.
They were supported by an aviation outreach initiative called U-Dream Global.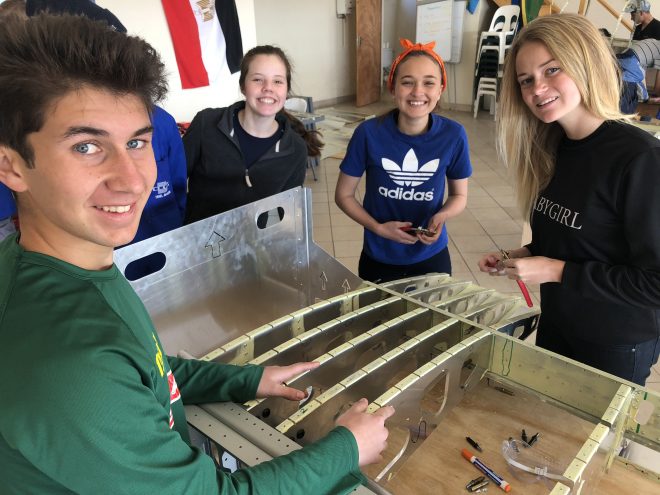 The program aims to inspire young South Africans. Teen pilot and founder of U Dream Global, Megan Werner told IOL that "When we started building the aircraft, we didn't know anything about aviation.
We had to learn about all the tools and learning to read the engineering drawings was also quite a challenge."
Fund-raiser manager for the U Dream global Cape to Cairo project, Simon Manda is convinced "These teenagers have built something that will create waves in Africa.
"They are showing everyone what South African youth are capable of even though some of them come from difficult backgrounds."
Source: Africafeeds.com