Human rights campaigners in the Gambia on Thursday held a protest march to raise awareness about sexual violence.
The protest was also in solidarity with the former Beauty- Queen Toufah Jallow and other victims of sexual violence.
Toufah Jallow had accused former Gambia's leader Yahya Jammeh of rape.
The incident occurred five years ago when Ms. Jallow was just 18 years and had been crowned winner of a national beauty pageant.
Ms. Jallow narrated that when she was summoned to the presidential palace that day she thought it was a beauty pageant event with other contestants to help kick off Ramadan.
Jallow had worn a traditional Muslim gown with a head scarf and her crown as was requested by the former president.
She was then dropped off at the president's residence and told to wait with her bag and phone taken by a security guard.
Summoned for rape
Jallow further narrated that a few minutes later Mr. Jammeh arrived, dressed in baggy slacks and a T-shirt.
She said her "guts literally fell down," upon seeing the former president in his undergarments.
Jammeh then allegedly told Jallow "You know a woman has never rejected me."
Ms. Jallow, known in Gambia as "Toufah" said Jammeh took her by the hand and led her into a room, shoved her into a chair.
The former president then started ripping off her dress, according to Jallow who said she started crying.
Jammeh then allegedly pulled a syringe from his pocket and injected Ms. Jallow's arm.
Mr. Jammeh pushed her to her knees and rubbed his genitals in her face.
Ms. Jallow said Jammeh then pushed her onto the bed and sodomized her until she blacked out.
Waking Ms. Jallow said she found her leggings on the floor and Mr. Jammeh sitting in a chair in the corner.
There have been other women who have come up with similar allegations.
Protesters want the perpetrators of sexual assaults to be brought to justice.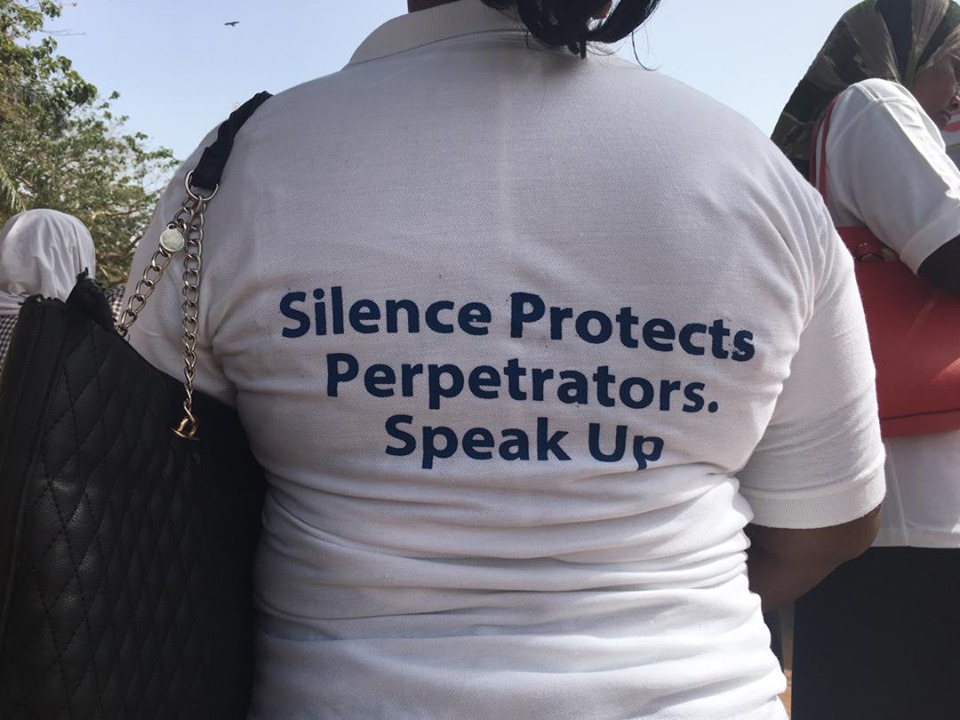 The government of Gambia is already urging all women and girls in the country to report any sexual violence they suffered in the hands of former President Yahya Jammeh.
Gambia's Attorney General Abubacar Tambadou has issued a statement praising some women who came forward to speak out about their ordeal in the hands of Mr. Jammeh.
The Truth, Reconciliation and Reparations Commission (TRRC) of Gambia has already started hearing stories of witnesses as it investigates happenings during the Jammeh era.
Yahya Jammeh ruled Gambia for 22 years until he was forced out of power in 2017.
Source: Africafeeds.com