Kwame Nkrumah is considered one of the greatest Africans to have ever lived.
He was instrumental in Ghana's fight for independence and eventually gaining freedom from the British in 1957.
Nkrumah was also an inspiration for many African freedom fighters, sparing alot of them on to gain freedom for their people.
The Pan-Africanist also played a major role in the establishment of the Organisation of African Unity (OAU) now the African Union (AU).
But in Ghana he faced many oppositions from the intellectual community including Kofi Abrefa Busia.
Busia was Prime Minister of Ghana from 1969 to 1972.  He helped to restore civilian government to Ghana following a military rule after the overthrow of Kwame Nkrumah's government in 1966.
Kwame Nkrumah and Busia were considered political rivals.
A letter written by Nkrumah to Busia in 1972 after the Busia government was toppled in a coup has sparked reactions from Ghanaians on social media.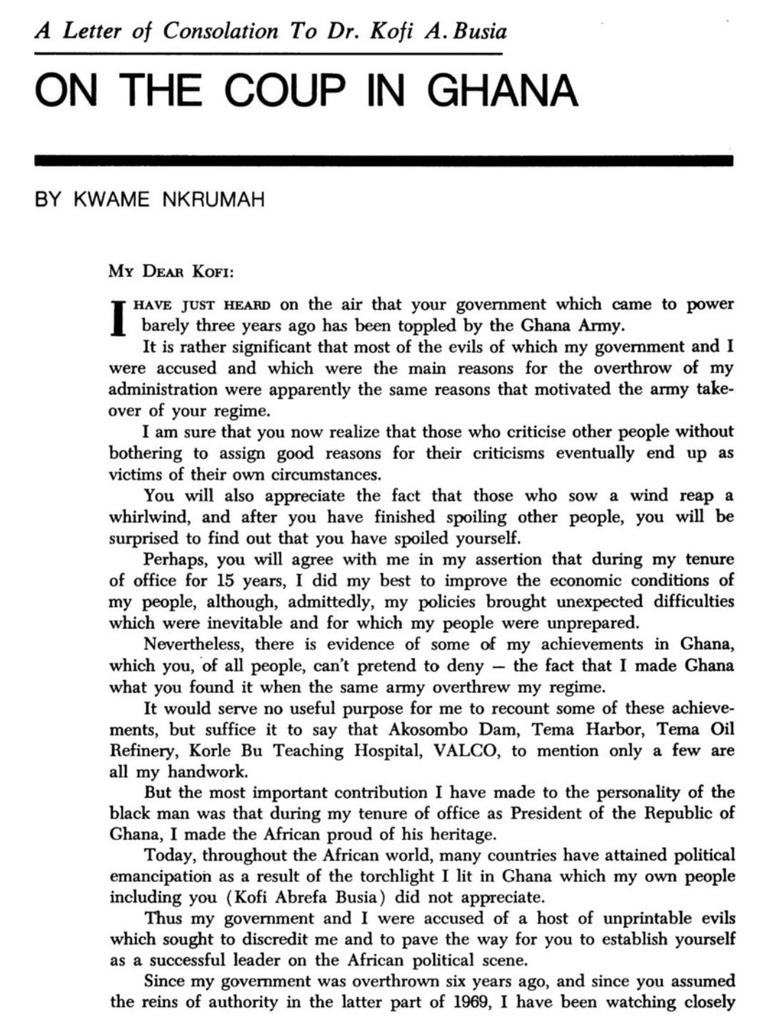 The letter titled "A letter of consolation to Dr. Kofi A Busia" appears to be a vile mockery of the former Prime minister.
The letter seems to be mocking at Busia for "failing in his attempt to succeed in politics".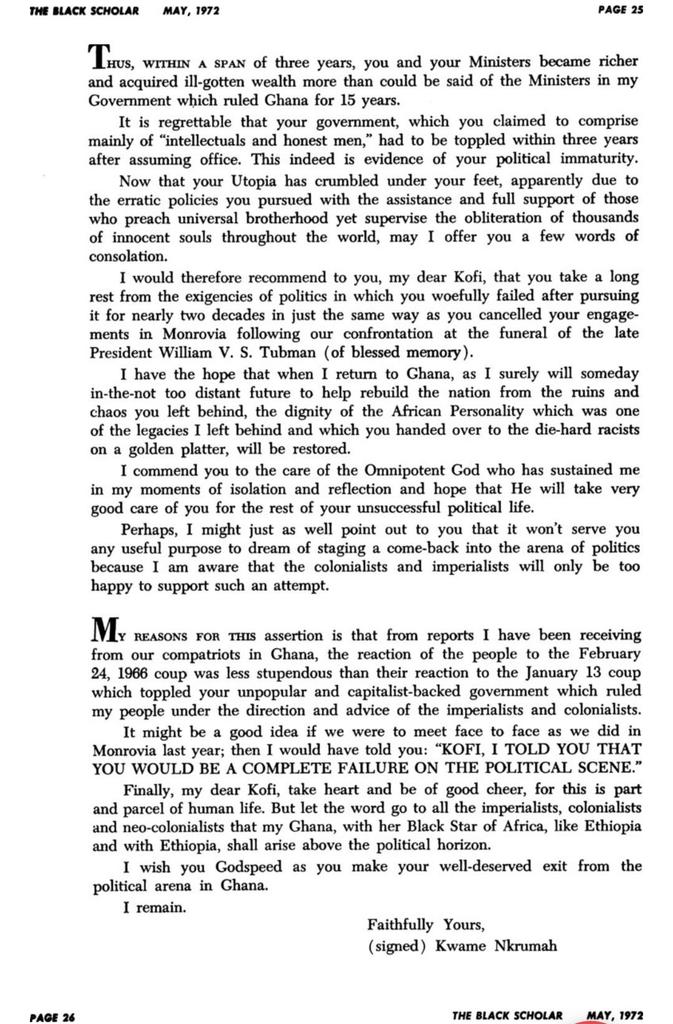 Social media reactions
On social media Ghanaians had their say on the letter and it's intended purpose.
Guy…Nkrumah set the bar for truth and pettiness wayyyyy back in 1972 ???
Wow! ?
Here's the letter he wrote Busia in 1972 after Busia was also overthrown
via @GhanaianMuseum pic.twitter.com/K02yIfy2b7

— M.anifest (@manifestive) July 7, 2019
#Nkrumah is a BLACK GENIUS ????. A selfless leader par excellence ???❤️

— Patrick Adjei Nketia (@pizii1) July 7, 2019
@zioneric27 @ampofo39 @KwekuHasford y'all need to read this

Heerrr, Nkrumah was no saint…?????

— Chey Baffour (@chey_baffour) July 7, 2019
The Dr has already commend it go God. And God is paying them back and it has affect as all. In fact Dr Kwame Nkrumah is the real president for Ghana and it is God's chosen one.

— Abdul Razak Adjei (@AbdulRazakAdje1) July 7, 2019
Hahahahaha Kwame Nkrumah be petty walai.???????????. Thanks for this enlightenment this morning! Reading this was like I was having a dejavu. Same thing happening today with our dear npp & Nana Addo. So so lies!

— teri-devon (@teri_devon) July 7, 2019
Nkrumah says he exhorted Busia through his electioneering campaign only to see him unravel under the pressure of national leadership and political ineptitude??? wicked

— AreaFynBoi? (@AbramiCavalli) July 7, 2019
Sarcastic and politically correct… I can feel his handwriting ?

— No ID (@timarion) July 7, 2019
Man was shading busia more than a pencil ????? and he called it a letter of consolation ???? pic.twitter.com/UMUMCABL6q

— Amin Yapusi (@bao_wizzle) July 7, 2019
I tell you. This killed me more ???????? savage exit. If Nkrumah was a rapper pic.twitter.com/QZrK4FTdO1

— Amin Yapusi (@bao_wizzle) July 7, 2019