Researchers behind the conservation project of scarce orchid tubers used to make a delicacy popularly known in Zambia, as Chikanda, are making notable progress in efforts to discover species that would be able to grow in commercial production systems.
New species have been identified in the trade, an App for identification of more has been developed and discussion towards taking the project regional are underway.
Growing Demand
In Zambia, the orchid, popularly known as African Polony, is normally ground into powder form and then cooked into a cake-like dish, which is eaten as a snack or meal accompaniment.
Chikanda, is an important part of the country's culture, as it is one of the foods that are a must have at traditional functions and ceremonies, and also highly nutritious, due the ingredients that are added to its preparation, such as peanuts. It is also used as a stew or stir fry in most households. Therefore, its extinction would mean losing a part of the Zambian culture and cuisine. It would also be a lost economic opportunity.
A recently released Research Paper,  by ResearchGate, a social networking cite, for scientists and researchers, suggests that Chikanda, has become increasingly popular throughout the country, adding that commercialisation puts the orchid populations in Zambia and neighbouring countries at risk of overharvesting.
"We therefore encourage increased conservation assessment of terrestrial African orchids," reads the November 2018, report, titled 'Trade In Zambian Edible Orchids-DNA Barcoding Reveals The Use Of Unexpected Orchid Taxa For Chikanda'.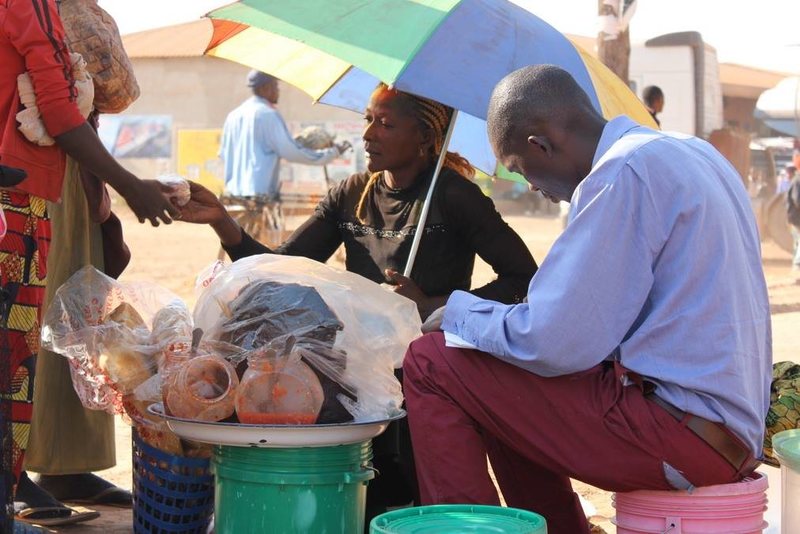 Research Advances
In recent months, new types of the orchid have been identified, bringing the number of currently known species harvested for the trade, to 64, according to Nicholas Case Wightman, a horticulturalist and botanist, who is one of the people behind these conservation efforts and worked as the project manager of the Darwin Initiative funded 'Wild Edible Orchid Trade: Sustaining Livelihoods And Bio-diversity In Zambia (Project Ref. 23-034)'.
Wightman notes that each of the orchids has evolved in a specific niche and with a specific pollinator and cautions that if any of the orchids were to disappear, a chain of other organisms that depend on them would equally be lost.
"If commercial cultivation becomes a reality, then ideally, the wild populations would be under less pressure than they currently, are," he observes.
The project also involved some researchers from the Copperbelt University's School of Natural Resources, working with three communities in the north – west of Zambia and a local NGO in Lusaka, Sanga Research and Development, working on market and supply chain analytics.
Economic Potential
The high demand has both advantages and disadvantages, in that the more the orchids are harvested, the more their existence is threatened, but also means there is a ready market for farmers and traders, who could earn a good income if they were grown on a large scale.
Monica Mwandila's over 15 years of trading in Chikanda and being sustained by it, attests to the economic potential it holds.
Her customers include passers-by, families and hosts of traditional events, such as Kitchen parties (bridal showers) and she observes that as soon as she takes it to her trading place, it finishes in minutes.
As such, she claims, this has enabled her to have a steady flow of income all these years. She however notes that lately, orchid supplies seem to have reduced and thinks it's because of over-exploitation and the disappearance of some forests.
"Nowadays, suppliers only bring limited quantities of Chikanda and normally mix the good orchids with sub-standard species,"  Mwandila observes, adding that that tends to reduce the quality of the final product and affect its taste.
She also claims that the wholesale price has equally risen.
"It [Chikanda] had always been popular, but in recent years, the demand levels have soared, "she notes.
Cultural Connection
The idea of conserving the orchids elates Patrick Chikungulu, a Lusaka-based Chikanda lover, who connects it to his childhood memories.
Talking about it, he casts his mind back to the early 1990s, in Mpalapata, a village in Zambia's Northern Province, where his mother would prepare it for him and family.
"I used to like Chikanda, when my mother would cut it in small pieces and boil it in peanut sauce. These days, I normally fry it and add tomatoes and onions, but it still reminds me of those olden days "he says.
He adds that he also enjoys it when served as a snack, at a traditional marriage ceremony, called 'Matebeto' (where a man and his relations are introduced to the wife-to-be's family dishes).
As such, Chikungulu concludes, the orchids are part of his culture and identity, which he hopes will be preserved.
Positive Expectations
The likelihood of the conservation project being a success is high, says Arushious Mweemba, a youth engaged in commercial farming, who claims his family and others used to replant the orchids, everytime they harvested some, in Kalulushi town on the Copperbelt Province.
He adds that he would gladly take up Chikanda farming, if it were to earn him high profits, but says he first has to wait and see what results the current conservation research, produces.
"If it brings money and involves low costs, we [farmers] can venture into planting it. It's easy to do," he reckons.
A Chikanda Orchid Interactive Key App, has recently  been designed, for non- botanists, to help narrow down and hopefully positively identify flowering orchids to species level,  available for free download, from Google Play Store and the App Store for IOS.
Wightman says the App is mainly aimed at Zambian users, but will also work for users in surrounding countries where these orchids are also found.
Plans are also underway to develop greater ties with neighbouring countries, such as Tanzania, Malawi and others, in order to develop a regional approach to the orchids' conservation.
Says Wightman: "It is still early days, but we hope to work with them to complement each county's efforts."
Source: Africafeeds.com