Another blackman has been killed by US police officers in Atlanta, sparking protests across the city.
According to officials Rayshard Brooks, 27, was shot by a police officer during a struggle on Friday evening.
The African-American man had fallen asleep in his car at a drive-through restaurant.
Investigators said police were called to the restaurant because Mr Brooks was blocking the drive-through lane.
Police said Mr Brooks resisted arrest after he failed a breathalyzer test and attempted to escape.
Eyewitness videos showed Mr. Brooks on the ground outside the Wendy's restaurant, struggling with two police officers.
He grabbed an officer's Taser and started running away only for another police officer to use a Taser on him.
Then both officers run out of the frame of the video, followed by gunshots. Videos showed Mr. Brooks on the ground but died when he was taken to the hospital.
Lawyers representing Mr Brooks' family have said the police officer had no right to use deadly force, saying the Taser which Mr Brooks had grabbed was a non-lethal weapon.
"You can't shoot somebody unless they are pointing a gun at you," attorney Chris Stewart said.
Atlanta's police chief has resigned over the incident. According to the city Mayor Keisha Lance Bottoms Erika Shields handed in her resignation on Saturday.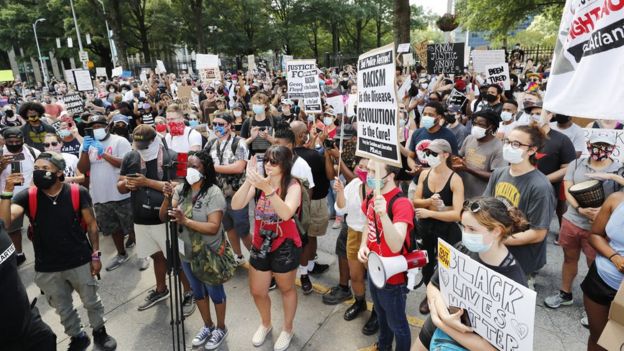 Meanwhile protests are spreading across Atlanta as people call for action following Mr Brooks' death.
On Saturday evening, demonstrators closed down a major highway and set on fire the Wendy's restaurant where Mr Brooks died outside
For weeks now people across the US have been protesting over the death of George Floyd, another black man who was in police custody.
Source: Africafeeds.com