Along a busy road in a community called Madina, east of Ghana's capital Accra, you will find a small metallic container.
The container is filled with used car tyres ready to be recycled into all forms of household furniture. This shop is owned by a final year student of the University of Ghana, Jeffery Yeboah.
Two years ago, he fell in love with car tyres, recycling them into all forms of tables for private and commercial use.
Yeboah told Africa Feeds that recycling used car tyres was meant to protect the environment.
"So the only way for us to curb car tyres is to recycle, because at the end of the day if you decide okay, I have changed two or three car tyres let me just throw them somewhere just behind my house.
Fine, it can be behind your house and breeds mosquitoes. Even car tyres without water, left in the open can breed Mosquitoes which will go around spreading malaria. So you should realize that car tyres is the Satan itself, but we can make it gold if we go into recycling," Yeboah said.
Turning waste into business product
Tyres are waste materials dotted across the West African nation. They are dumped in drains and usually set ablaze, polluting the atmosphere.
What Yeboah does is to go round picking these tyres, washing them and carefully and beautifully weaving traditionally produced ropes around them.
They are then built into tables with additional materials like wood and glasses. Yeboah says the journey of turning what he said was initially a hobby into business wasn't easy.
"I was doing this in my room on campus, of course I had roommates, some will complain, you washing the car tyres in the wash room alone and the whole place, you are littering almost the whole room with car tyres and all that" he said.
Support from Family has not been that easy for Yeboah like some other young entrepreneurs usually do.
"Family, hmm a lot of them don't really know what I am doing, some have a lot of questions, you have gone to school and you are not graduating, when are you graduating? What are you doing in school?" He said.
The challenge with start-up capital
Young Yeboah had to spend all his savings of over $500 to build his business. It has forced him to occasionally defer his studies at the university. One of his friends, Samuel Akpo says what Yeboah does with these car tyres sends positive messages to idle young people.
"What he is doing here right now, I am just seeing it and it is just wowing me, myself that this could be done out of car tyres and all that, wow. This is something that can be taken to the next level. We need more of this, we need more young people to undertake certain things like these, we will go to the next level," Akpo told Africa Feeds.
This year Yeboah decided to expand his operation, after registering his business with the name Ripples Interior Décor, he employed another young unemployed graduate, Samuel Asare Bediako Antwi. Antwi said joining forces with his boss and friend has been good.
"A lot of graduates are at home, they don't know what to do, they have C.Vs, the have everything that qualifies them to work, but they don't have anything to do because of how the economy is.
So I just decided to learn from Jeffery what he is doing so that I can also make earns-meat. And then looking at what he is doing, I just love what he is doing so I decided to join him do it," Antwi said.
Cost of products
A table produced with a recycled car tyre cost $25 dollars. Yeboah who is gradually getting orders says he needs capital to expand his capacity. Besides protecting the environment he wants to enter other African markets. He is hoping to build one of the biggest businesses from recycling car tyres.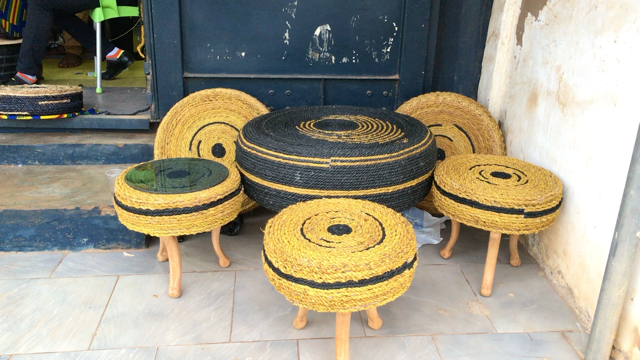 "I want to create a big business out of recycling of car tyres. That is my passion, that is what I want to do, that is the difference I want to make. That is the next Gold. The next natural resource that I, of course other people are also doing one of two things with car tyres, but I want to take it to the next level, to the biggest level," Yeboah said.
He looks and sounds confident in what he is doing and he is gradually getting the needed exposure. Sooner than later, his products should be in many homes across Ghana and beyond.
Source: Africafeeds.com