He was regarded as the most exciting young football star who could have led the next generation of galaxy of stars of English players to the 2006 FIFA world cup in Germany.
But depression and anxiety were the least of words in Cherno Samba's vocabulary when his dream move to Liverpool fell through back in the early 2000s in England.
He was the most chased after footballer by many big clubs at the young age of 15 years.
One Samba's father broke the sad news of him not joining Liverpool to him. His father also asked him whether he noticed the condition of his mother who was devastated by the failure to secure a deal to play for Liverpool.
Samba narrated that his "Dad asked me, do you realized that your mum is never the same like she used to be?
My reply was, Dad you are right and then he told me it is because the deal to Liverpool had collapsed. That is why she was sad. I fell on the floor crying and promised myself that I will never play football again".
Samba sat home for more than six (6) months before finally going back to Millwall FC where he will spend 4 years before leaving for Cadiz football club in Spain.
"The fact that the deal didn't go through broke me down. It had a huge impact in my life I didn't want anything with football anymore," Samba said.
He struggled with the disappointment and never wanted to continue living anymore. One day he went to a club pharmacy for some drugs and overdosed in order to die.
Samba wouldn't die after one of his team mates who often picks him up every morning on the way to training went to his house.
His team mate had to break into Samba's room after he wasn't answering his calls only to find him lying on the floor. Rushing him to the hospital saved Samba's life.
Samba's career hit a rock and he never enjoyed the fruits of his ambition because of disappointment and trauma.
Childhood journey
Cherno Samba's journey began thousand miles away from his country of birth The Gambia to join his parents in England when he was a six (6) years old.
Born in the suburb of Banjul the capital city of The Gambia, Cherno was passionate about football since he was a child.
As a young and talented prodigy he would become one of the most sought after player among his peers.
Samba's ability with the ball at his feet was sensational because he would mesmerize any defender on his way.
When he was a kid playing school football, Cherno wore the number 10 but he was a rare germ among his school mates.
One agent saw him while playing for his school Oliver goldsmith. West-ham, Leeds united, Charlton and Millwall all wanted his services.
But he preferred to join Millwall because it was closer to home and he wouldn't want to move far away from home.
When Cherno was at the age of 13, he scored 132 goals in 30 games for his school while he made his way at youth level with Mill wall and England.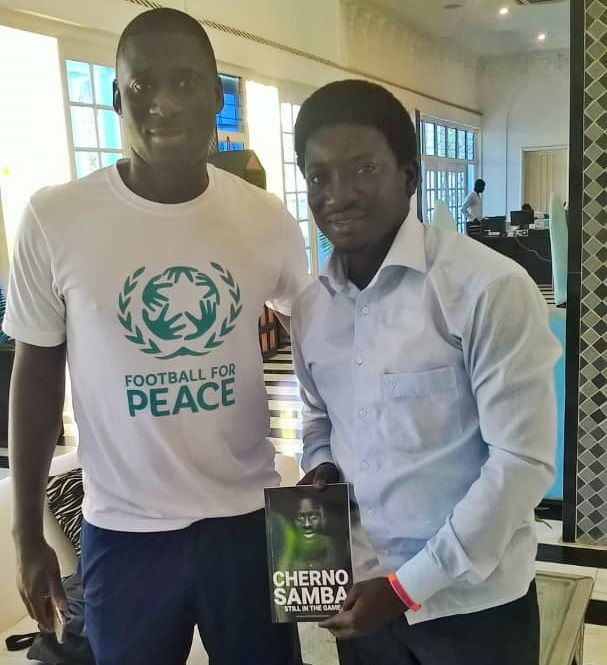 He was picked as a 14-year-old for England U17. At one stage he would keep former Manchester United and England captain Wayne Rooney out of the starting line-up for England Under-17s.
Even though he was only 14, playing a year ahead of his age with the likes of Darren Bent, Glen Jonson and David Bentley, his career took a new height when he scored goals against Wales.
"I remember it was our second match against Wales in the under -17, I scored a goal and won the man of the match award and all the clubs were talking about me" Samba recalled.
Now Cherno Samba who is 34 has retired from football and has his A-license in coaching.
He has also written a book title "Still in the Game" which talks about his career, the high and low moments and how he was able to transform himself and became an inspiration to the younger football stars.
Source: Africafeeds.com