Learning the science subject can be very frustrating for students in Africa.
This is because in many instances there are no tools to help them appreciate the subject.
But in Ghana a group of young people is trying to change the narrative by developing a science learning kit to solve the lack of interest in the subject.
The brain behind the initiative Charles Ofori Antipem told Africa Feeds that the science learning kit is helping students better appreciate the science subject.
The learning kit with over 40 items is fast becoming popular just like the mathematical set.
The kit contains electronic components like resistors, iron filings for electromagnetism and a manual.
In many schools in Ghana there are virtually no science labs for the teaching and learning of the subject.
Solving problems
According to Antipem his learning kit should help solve the problem.
"Africa needs more scientists and engineers. But unfortunately the tools that are required to train young scientists and engineers are just not existent.
In places like Ghana, more than 90 percent of all primary schools don't have access to a well-equipped lab.
So we decided to try and find a solution to this problem and our solution was the science set," Antipem said.
This project started a little over two years ago. Antipem's company DESK technology has produced over hundred kits and distributed them to schools across the country.
The impact on students has been significant according to Antipem who says it is motivating students to be innovative.
"So we have an instance where there is a young girl call princes from a town called Brekusu here in Ghana.
She had access to a science set and after she learnt how to use the set to build a circuit and to produce light," Antipem revealed.
He continued saying that when the young girl "went back home knowing that she had this problem took some recycled box and she made a square and in the middle of the square she put some wires and on each side of the square she puts some bulbs and when she turns it on the boxes illuminated all round."
'Challenging teaching science'
Teaching science subjects can be very challenging in countries like Ghana.
Teachers are always finding ways of explaining topics to students due to lack of practical tools.
That means a science learning kit like what Antipem and his colleagues have developed is helping address the issue.
It cost $16 to access the kit. Not all parents are able to afford but Caleb Fugah who works with some of these students says no matter the cost students need such a learning kit to love the subject.
"The science set is no longer a want, but a need, I have seen students instantly get interested and innovative with science and they start to talk about how to create their own remote control to school gates, how to create their own light boxes, how to create an alarm system in their own houses and all, and even teacher start to get creative as soon as they get in touch with the science set.
So the value the science set brings on board is quite enormous," Said Fugah who is helping to market the sets to schools.
Charles and his team hope to get their kits to every student in Africa in the next five years to drive innovation and change the attitude towards the subject.
He said "over the next five years we are seriously working to make sure every corner of the continent no matter where they are at least even if a student does not own a set,  set will be within a kilometre away from them.
That students will have access to things like the science set to enable them really appreciate science education."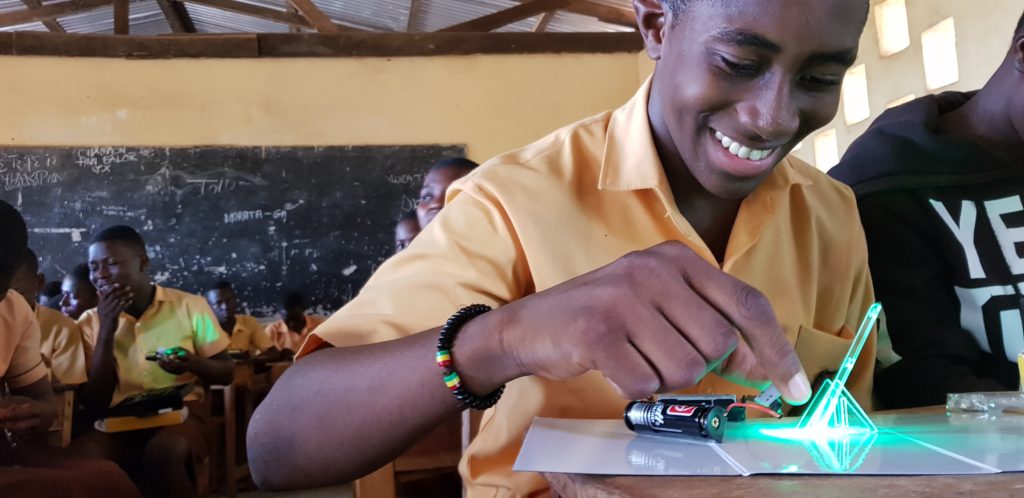 Some governments on the continent are now engaging Charles and his team on producing on a large scale.
Hopefully many students should access this learning aide for their studies.
Source: Africafeeds.com