Ethiopia on Tuesday held a memorial service for the country's army chief of staff who was killed in a failed coup in the Amhara state.
Gen Seare Mekonnen and three other senior officials were trying to prevent the said coup attempt by an army general in Amhara.
The Amhara's state president Ambachew Mekonnen and his advisor were also among those killed.
The memorial was attended by hundreds of soldiers and officers in central Addis Ababa.
The coffins of Seare Mekonnen and another retired general were draped in Ethiopian flags.
They will be buried on Wednesday.
Gen Seare Mekonnen & retired Major General Gezai Abera's memorial is currently underway at Millenium hall in Addis Abeba. The funeral will take place tomorrow at the St. Gabriel church beginning at 12:30 a.m in #Mekelle. #Ethiopia

— Eshete Bekele (@EsheteBekele) June 25, 2019
Coup ringleader killed
General Asamnew Tsige who happens to be the region's security head was named as the chief orchestrator of the attempted coup.
He is reported to have been killed while trying to escape from his hideout in Amhara state.
Tsige was found guilty of a coup plot against the national government in 2008 and received life sentence.
He gained freedom through an amnesty from Prime Minister Abiy last year after serving for 9 years.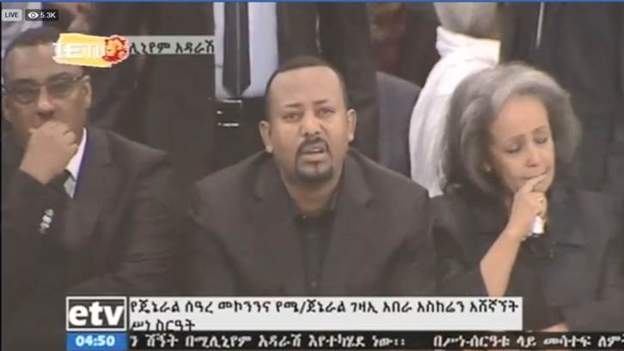 The state of Amhara is Ethiopia's second most populous region and home to people belonging to the Amhara ethnic group.
The national language of Amharic originates from the Amhara state. But there is continued violence between the Amhara and Gumuz ethnic groups.
Many people have been killed in both states due to fighting with the latest clashes happening in May of this year.
This particular fighting and other ethnic clashes in Ethiopia have displaced millions and are largely over land disputes.
Source: Africafeeds.com