Six people accused of playing a role in the failed coup in Ethiopia's Amhara state have appeared in court in Ethiopia's capital, Addis Ababa.
The suspects were arraigned on charges of terrorism in their alleged attempt to overthrow the Amhara state government.
They are the first set of people to be sent to court after the incident which led to the death of the country's army chief of staff, Gen Seare Mekonnen.
The army chief and four other officials died in the attack with the alleged ringleader of the failed coup, Brig Gen Asaminew Tsige, also reported to dead.
In court the judge ordered the police to come up with evidence that shows that the suspects indeed played a role in the incident.
The police have 28 days to come up with further evidence. But the judge said the suspects could remain in custody.
Meanwhile the army chief and other officers who were killed in the failed coup would be buried on Wednesday.
In the northern state of Tigray in Ethiopia large crowds on Wednesday gathered at the Martyrs' Square in the state capital of Mekelle, to pay their respects to the two generals who were killed.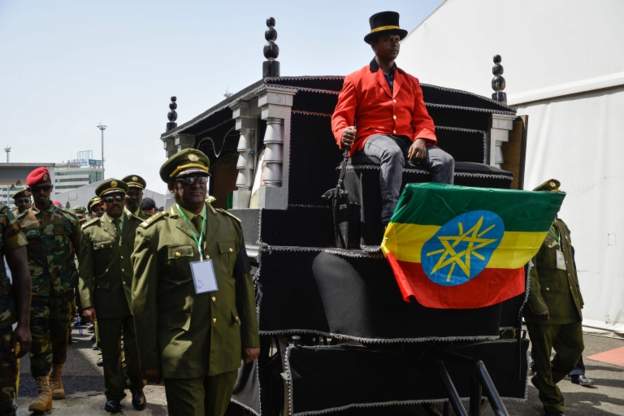 On Tuesday a memorial service was held for Gen Seare Mekonnen and Brig Gen Gezai Abera who were shot dead the coup attempt.
The memorial was attended by hundreds of soldiers and officers in central Addis Ababa.
Source: Africafeeds.com