Somalia's government is facing a major challenge dealing with imminent food insecurity.
The country for most parts of 2019 has been fighting desert locusts that have been destroying tens of thousands of hectares of crops and grazing land in part of the country.
According to the United Nation food agency – Food and Agriculture Organisation (FAO) that this is the worst invasion in 25 years.
Somali Minister of Agriculture, Saeed Hassan says government will do all in its power to deal with the locusts.
He has announced the Training of staff of the Somali Federal Ministry of Agriculture to supplement the Koronkoro locust in the Adado area.
Also, agriculture professionals in the Adado area have received training on how to help the locality.
The Somalia agriculture ministry has been putting in some work to fight the locusts but now needs external help from development partners.
Support from external partners
Already, the United Kingdom of Great Britain and Northern Ireland through its Department for International Development (DFID), FAO is working with Ministries of Agriculture and partner organizations on surveillance and control efforts in Puntland and Somaliland to prevent the spread of the pest to southern and central Somalia.
It is estimated that over the next six months, more than 100,000 hectares of land will need direct control interventions in Somalia.
"We are talking about a medium- to long-term intervention. The impact of our actions in the short term is going to be very limited, but we can make a difference to support livelihoods and avoid further disastrous consequences for the next season in 2020 if we act now", says Etienne Peterschmitt, FAO Representative in Somalia.
He added that the FAO requires an additional $3 million for the initial response.
"The immature swarms are the most destructive stage and can seriously threaten 2019 Deyr (October-December) season food and fodder production," says Alphonse Owuor, Crop Protection Officer of FAO in Somalia.
Cereals and Maize – the country's main staple is greatly being affected. This fight would be a difficult one and a consented effort is needed to succeed.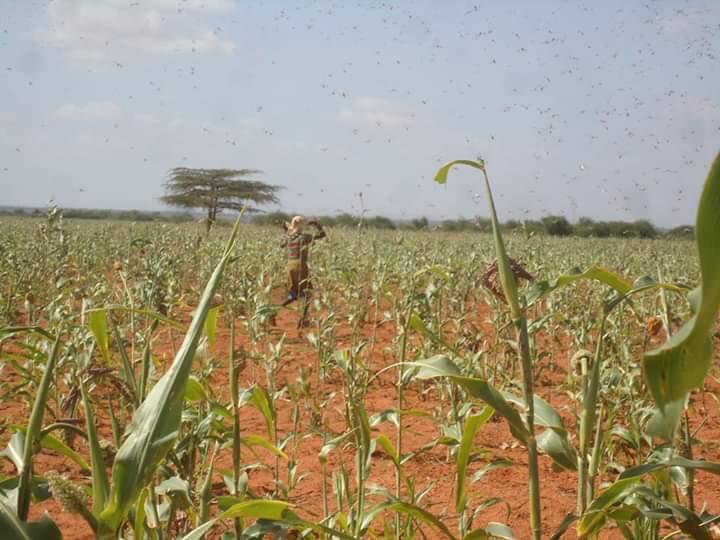 Desert Locust
Desert Locust is a transboundary pest with the ability to spread over large areas, causing considerable damage to pasture and crops.
Outbreaks occur periodically but are complex to predict. When not managed at the place of origin or breeding ground, they can lead to losses of up to 100 percent of food and fodder crops.
A typical Desert Locust swarm can contain up to 150 million locusts per square kilometre.
Swarms migrate with the wind and can cover 100-150 km a day. An average swarm will destroy enough crops that could feed 2 500 people for one year.
Source: Africafeeds.com