The current coronavirus pandemic is impacting greatly on major decision making processes across the world and Africa is not an exception.
The continent's flagship economic project the African Continental Free Trade Area (AfCFTA) was expected to be activated in July this year.
Should that happen the continental free-trade zone would be the world's largest free trade area uniting 1.3 billion people and creating a $3.4 trillion economic bloc.
The free trade zone is considered a critical action to usher Africa into a new era of development. The African Continental Free Trade Area (AfCFTA) will have 54 African Union (AU) members.
But the coronavirus has affected the possibility of African leaders meeting in South Africa this year as part of processes towards finalizing the deal.
In March this year, 40-year-old South African Wamkele Mene was sworn in as the first Secretary General of the AfCFTA Secretariat.
His swearing in gave hope that things were going to take better shape and the deal rolling out by July 1, 2020.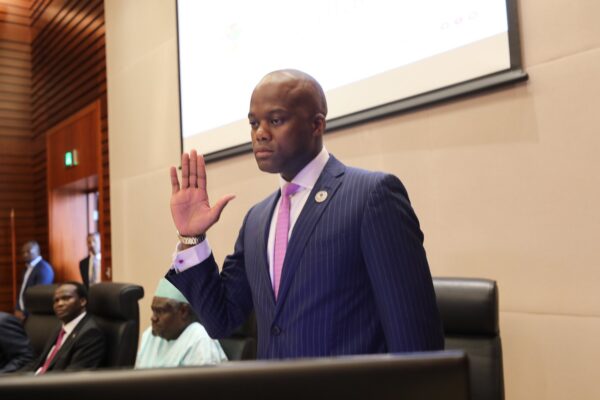 But the surging rate of the pandemic turned everything on its head forcing countries to close their borders and restrict travels.
Mene told Reuters that only heads of state of the 55-member AfCFTA could authorise changes to the deadlines, adding that "It is only after the summit that you can say we have a new trading date. The next opportunity of a summit is on 2 January 2021."
Since no communication has come out on what the heads of state would do next, Mene is advising that the July 1, 2020 implementation deadline be deferred.
"The current circumstances simply are not conducive to the comprehensive trade we had imagined," he said.
What are the options?
The only option left for the heads of state to meet to decide on the deal is to hold a video conference but Mene said that would be effective.
"The technical difficulties are immense. I'm not convinced…that doing them over video conference is feasible," he said.
Mene added that "What this pandemic has done is underscore the imperative of this objective. When you are overly reliant on a particular trade partner, you are vulnerable. The pandemic is slowing us down, but I think this is going to happen."
African countries only do about 16 per cent of their business with each other with the African Union hoping to change this trend with the deal when it comes into effect.
The AfCFTA is a major project of the AU's long-term development plan Agenda 2063, which emphasis the need to  ease trade and travel across the continent.
AU appoints envoys for covid-19 economic support mobilization
Source: Africafeeds.com