Several African countries including Nigeria, Rwanda, South Africa and Cameroon have lifted lockdowns imposed to curb the spread of coronavirus.
However schools remain shut from the basic to tertiary levels in all the countries which have eased the restrictions.
Ghana lifted its partial lockdown imposed on some cities three weeks ago after the government scaled up testing and contact tracing.
The decision was severely criticized by health workers and some CSOs which proposed an extension of the lockdown.
Nigeria lifted its lockdown on Monday in compliance with a directive from President Muhammadu Buhari to revive the economy despite criticisms.
Airport road Abuja!
We are lions! We are war! We are Indhabosky!

Corona, who you? Who form you? pic.twitter.com/5fna8AIPAh

— ᴸᵁᴷᴹᴬᴺ_ᴸᴬᵂᴬᴸ® (@Dimeji__Lawal) May 4, 2020
Restrictions have been eased in Lagos, Abuja, Ogun and Kano states as people still remain cautious.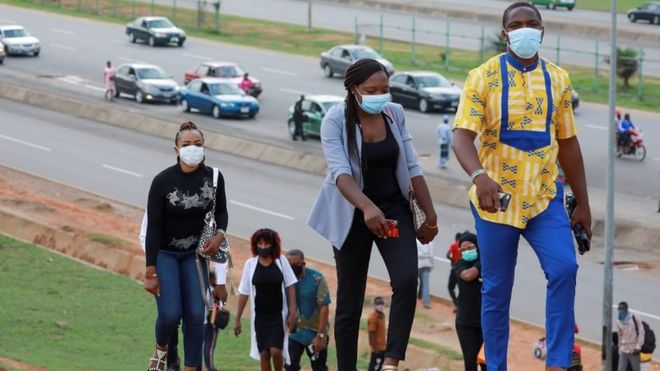 Covid-19: Africa may be vulnerable as local infections increase
In Cameroon, the Prime Minister John Ngute said the economy has suffered since the lockdown was imposed in March.
South African President Cyril Ramaphosa said the lockdown cannot be sustained indefinitely, hence the decision to ease the restrictions.
#Level4 Scenes at the Bellville taxi rank in CT this morning. SF pic.twitter.com/t5vStf71tz

— EWN Reporter (@ewnreporter) May 4, 2020
Under the level-four lockdown in South Africa, public transport is allowed to operate with some set guidelines on number of passengers to carry.
Zimbabwe has also eased some of the restrictions imposed to curb the spread of COVID-19 as it grapples with high inflation and slowed economic activities.
In Eastern Africa, some countries including Kenya and Rwanda have allowed businesses to reopen as the COVID-19 takes a toll on their operations.
But the World Health Organization has warned that lifting the coronavirus restrictions too early could spark a "deadly resurgence" of the infection.
53 African countries have so far reported at least 47,118 cases of coronavirus with 1843 deaths and 15,587 recoveries.
#COVID19 update in Africa (As of 5 May 2020, 9.00 am East Africa Time)
53 @_AfricanUnion Member States reporting 47,118 cases, 1843 deaths, and 15,587 recoveries. More information at https://t.co/teDFU1XFLZ#FactsNotFear #AfricaResponds pic.twitter.com/iB9XNkH42H

— Africa CDC (@AfricaCDC) May 5, 2020
AU 'in discussion' with Madagascar over its Covid-19 herbal remedy
Source: Africafeeds.com