The founder of Child Online Africa, a pan-African non-profit organization fighting for the safety of children online, Awo Aidam Amenyah has been honored for her humanitarian services.
At a Humanitarian awards event in Ghana's capital Accra, a citation was read on her honor for fighting for the rights of children and pushing for a safer environment for them to operate online.
The citation from the Humanitarian Awards Ghana read that the honor to Amenyah was "in recognition and appreciation of your outstanding and selfless commitment in rendering humanitarian services."
"In this regard, Humanitarian Awards Ghana will like to celebrate you for your good works."
It concluded that the Humanitarian Awards Ghana congratulates Amenyah "for your contributions to communities and humanitarian services."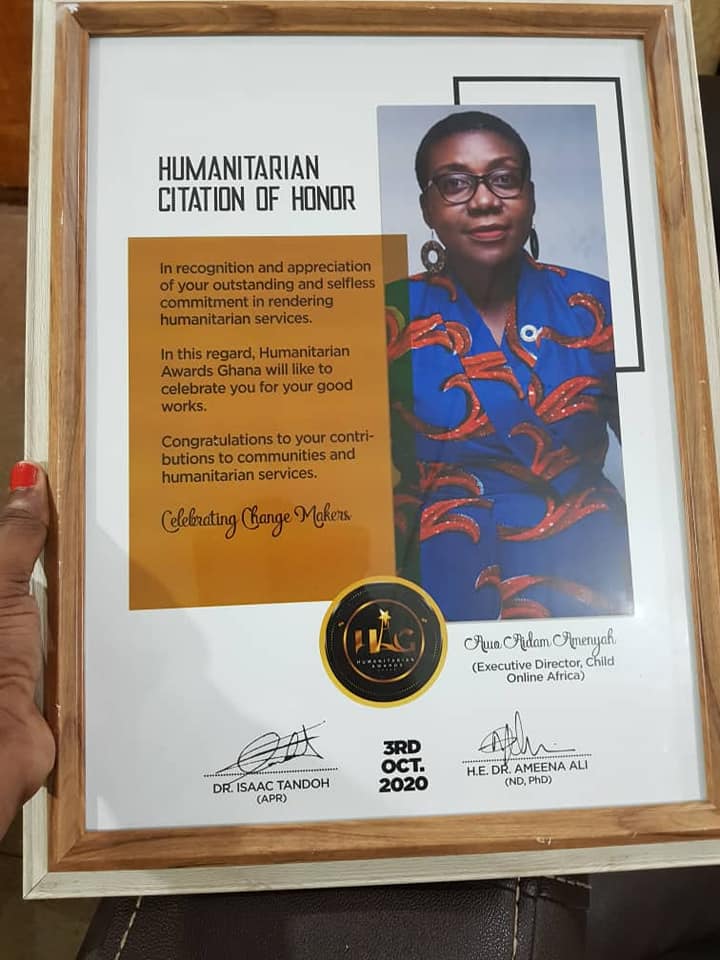 Amenyah's Child Online Africa has been at the fore front pushing for an end to the embarrassment and stigma young girls face due to menstruation which prevents them from going to school and engaging in other social activities.
Its Happy School Girl Project sort to address these issues in Ghana by emphasizing that biologically, menstruation is an important and normal part of the female human life, and humanity exists because of this.
The organization also called for an end to the taxation of pads which means girls during their periods are unable to afford safe menstrual hygiene products.
Child Online Africa has also demanded for reforms across Africa to make the internet safer for children.
In 2019 she decided to climb mountain Kilimanjaro to raise awareness about online safety finally made it.
Amenyah upon reaching the top of the tallest mountain in Africa located in Tanzania said she embarked on the project called "Kili4theAfricanChild" to "make a case for online safety for the African child".
The aim is also to create "awareness on the need to protect the vulnerable and give people especially children the confidence to use the internet without fear."
The group continues to lead the Safer Internet Day activities which is a major annual campaign on the continent to raise awareness about making the internet safe for users.
Awo Aidam Amenyah has been recognized and honored by the Ghanaian government for her organization's role in this campaign as well.
Ghana: Political parties asked to stop using kids as campaign props
Source: Africafeeds.com