A strong earthquake has struck central Mexico, killing at least 226 people and toppling dozens of buildings in the capital, Mexico City.
President Enrique Peña Nieto said more than 20 children had died and 30 were missing after a school collapsed.
The 7.1 magnitude quake also caused major damage in neighbouring states.
The tremor struck while many people took part in an earthquake drill exactly 32 years after a quake killed thousands in Mexico City.
The country is prone to earthquakes and earlier this month an 8.1 magnitude tremor in the south left at least 90 dead.
The epicentre of the latest quake was near Atencingo in Puebla state, about 120km (75 miles) from Mexico City, with a depth of 51km, the US Geological Survey said.
The death toll of 226 was confirmed on Twitter by the country's national co-ordinator for civil protection. It includes at least 55 people killed in Morelos state, south of the capital, and 39 reported killed in Puebla state. One hundred and seventeen are also confirmed dead in Mexico City, with another 12 in Mexico State, and three dead in Guerrero.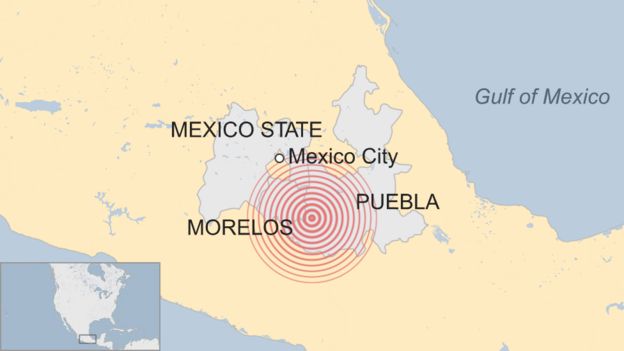 About two million people in the capital were without electricity and phone lines were down. Officials also warned residents not to smoke on the streets as gas mains could have been ruptured.
Mexico City Mayor Miguel Angel Mancera told TV network Televisa that rescue services were dealing with collapsed or badly damaged buildings at 44 locations.
President Peña Nieto said more than 20 children and two adults had been found dead at the collapsed Enrique Rebsamen school in Mexico City's southern Coapa district. He said another 30 children and eight adults were missing.
BBC