Rights groups urge Ghana to invest in Mental Health
A coalition of rights groups on Monday asked Ghana's government of Ghana to "should ensure adequate funding for mental health services" in order to help eliminate "the widespread practice of shackling and other abuses against people with psychosocial disabilities".
The coalition in a statement said Ghana's the finance minister must "set a levy to support mental health services, as required by Ghana's 2012 Mental Health Act."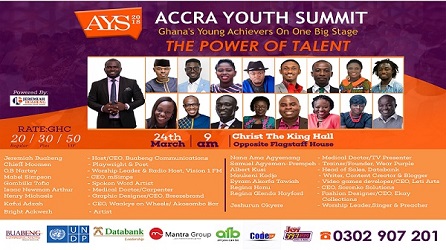 The coalition includes MindFreedom Ghana, Mental Health Society of Ghana, BasicNeeds Ghana, Law and Development Associates, Human Rights Advocacy Center, Christian Health Association of Ghana, Human Rights Watch, CBM, Disability Rights Advocacy Fund, Anti-Torture Initiative, and former United Nations Special Rapporteur on Torture Juan Mendez.
Peter Yaro who is the executive director of Basic Needs Ghana said "People in Ghana resort to shackling people with psycho-social disabilities because they see no alternatives,"
"It's now been five years since the passage of the Mental Health Act and it is high time for the government to invest in community-based mental health services so people with psychosocial disabilities can get the support they want, instead of ending up in shackles." Yaro added.
Ghana has set up a mental health authority to regulate mental health care delivery in the West African nation but funding of that authority has been challenging.
That has made it difficult to ensure the clumping down on various inhumane forms of handling mental patients.
In July, the Mental Health Authority oversaw the release of more than a dozen people with disabilities who were chained in Nyakumasi Prayer Camp in the Central Region. The Mental Health Authority however needs to do more.
"The government of Ghana has a real opportunity to lead by example, sending a message to other countries in the region and globally that it will not tolerate the inhumane treatment of people with psychosocial disabilities," said Julian Eaton, senior mental health advisor at CBM.
The coalition said "People with mental health conditions in Ghana should no longer be subjected to inhumane treatment. Instead, the government needs to ensure that people with psychosocial disabilities are treated with dignity and can live full and independent lives".
On Monday the coalition launched a social media campaign, #BreakTheChains, to combat the stigma associated with mental health. The campaign is also to push for the government of Ghana to fulfill its commitments under the Mental Health Act and the UN Convention on the Rights of Persons with Disabilities.
Source: Africafeeds.com / HRW