Spain has agreed to allow a migrant ship to dock in its ports after it was stranded for hours in the Mediterranean.
The ship with 629 migrants aboard was turned away by Italy and Malta who refused it entry into their ports.
The European Union and United Nations both asked Malta and Italy to help take in the rescued vessel.
But on Monday Spain offered to take in the ship. The migrants, include pregnant women and children, according to the French charity SOS Mediterranee.
Many of the minors are aged between 13 and 17 and they come from Eritrea, Ghana, Nigeria and Sudan, according to the BBC.
Spain's intervention
Spain's new Prime Minister Pedro Sanchez says the ship will be allowed to dock in its eastern port of Valencia.
"The prime minister has given instructions for Spain to honour international commitments on humanitarian crises and announced that the country will receive the ship Aquarius," his office said in a statement.
It said the decision is "to avoid a humanitarian catastrophe and to offer a safe port to these people."
Why the refusal
Italy's new interior minister Matteo Salvini, ordered that the vessel doesn't dock at the port due to his promised tough stance on immigration.
Malta also refused to take in the migrants saying they were picked in Libyan waters, a territory that is under Italy's jurisdiction.
Where is the ship?
The ship was stranded at sea at 35 nautical miles from Italy and 27 nautical miles from Malta.
"Our objective is the disembarkation in a port of safety of the 629 people now on board the Aquarius".
"some we rescued yesterday night in difficult conditions," the group's spokesperson Mathilde Auvillain told Reuters news agency.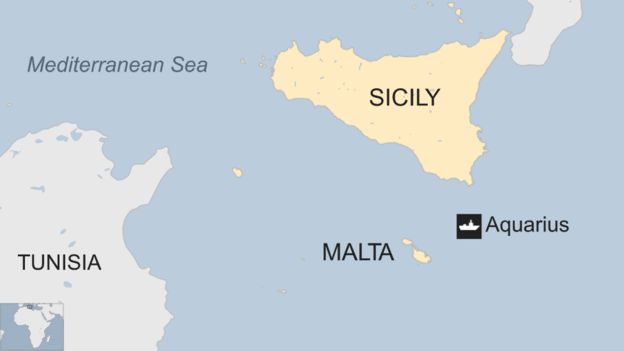 The migrants were picked up in six different rescue operations off Libya's coast. Many African migrant prefer to use Libya's coast in crossing into Europe.
Source: Africafeeds.com