For many parents in Africa granting their kids access to mobile phones could be dangerous as they are unable to track what they use the gadgets for.
Very little Mobile Apps combine fun with useful lessons tailored towards kids.
In Ghana, a group of young App developers has developed an App focusing on the Ghanaian Folklore hero called Ananse.
The mobile app called 'Ananse The Teacher' is not just any other app. It is developed with the Ghanaian folklore history, to help young people improve and appreciate subjects like Science, Technology, Engineering, Arts and Mathematics otherwise known as STEAM.
Who is Ananse?
Ananse is a popular character in the Ghanaian culture. He is considered witty and tricky and stories about him excites many kids. Those stories are told by the elderly as they are surrounded by kids who listen with all the needed attention.
The themes for the stories told by the app are funny, based on a system of gaming. Once you get hooked to the fun, you learn as well.
Martin Bruce, one of the developers of this App says the "Ananse the Teacher" app is under a project called Young at Heart. It is targeting young children with interest in STEAM subjects.
"So if you open the app you are greeted with a very beautiful animation and a catchy interest because we know kids like pictures and like drawings. Now you navigate to Ananse fun which has stories. Once you click on a story, for the first paragraph, there is a voice in the background which helps you read. Once its done reading the first paragraph the child is left to read under the supervision of an adult," Bruce explains.
Taking the App to kids
Bruce and his team of volunteers occasionally tour schools to introduce the app to kids. He is also encouraging parents to engage their kids on phones which makes learning of Sciences, and Mathematics fun and easy.
"These subjects are the ones that most children shy away from. Mainly because of how they are taught, or because of how it is presented to them.
So you speak to any pupil and they will find the fields of science technology arts and maths as a difficult subject, as a boring subject, but we felt that if children are going to have a place in the future, then we have to repackage these fields, get children to be engaged and more interested in them" Bruce said.
Reactions of Parents
The App now on google play store, has been downloaded over one thousand times by users.
So, what do most parents think about kids using the App to learn?
A parent told Africa Feeds that "Ananse the teacher App is the best thing to keep children busy nowadays. For instance, in my home, it just helps me create some sort of order because they are also excited about it. They listen to the story from the beginning and they continue reading. They read aloud and even try to act it out."
Another parent also said "Thanks to the Ananse the teacher app, I can share stories with the kids, and we can play games together, all in just one application. We would have fun, learn moral lessons and also learn about science. And it is so interesting. Ananse the teacher App has been a wonderful addition to my applications on phone, and I have something to occupy the kids whenever they want to play with my phone."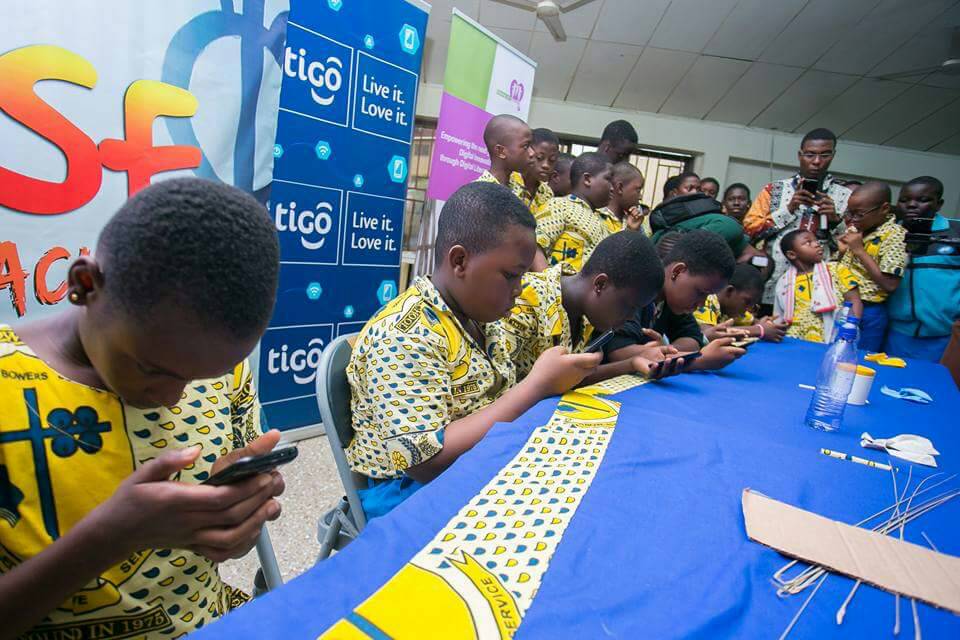 Future of Ananse the teacher
Developing such a platform has been challenging. Bruce says lack of enough funding for such initiatives remains a setback.
However, the motivation is high with hopes to extend the initiative to other African countries. That could be based on the theories of local heroes in other African countries.
"We are looking at developing various localized versions for different parts of Africa. May be there will be Temi the teacher in Nigeria, there would probably be Zulu the king in South Africa, we are looking at connecting to the whole of Africa, teaching kids the field of science technology engineering arts and maths in a very funny and engaging way," Bruce said.
In an era of technology, this initiative is set to encourage parents widen access to mobile applications for their kids. After all, learning can also be fun.
Source: Africafeeds.com