At least twenty people are reported to have died when suicide bombers detonated bombs in-front of a hotel in Somalia's capital Mogadishu.
Two car bombs went off outside the Sahafi Hotel, just across the street from the headquarters of Somalia's Criminal Investigations Department.
Friday's blasts also injured dozens of people, according to Somalia security officials.
Ali Nur, a police officer in the city, told Reuters that some of those killed "were travelling in public vehicles at the scene when the blasts and gunfire occurred."
The owner of Sahafi Hotel is reported to have been killed in the bomb attacks. His father died in a similar assault three years ago.
Islamist militant group al-Shabab has claimed responsibility for the attack. Captain Mohamed Hussein, a security official is quoted by the AFP as saying that "although they failed to access the hotel, the blasts outside the hotel killed many people."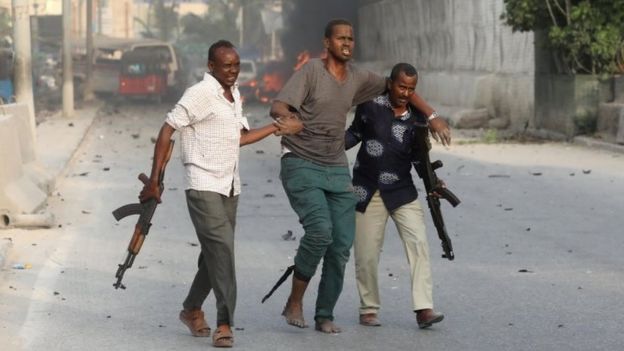 The Sahafi Hotel is a popular hotel patronized by foreigners. The hotel has a strong security system and the attackers were targeting the facility.
Al shabaab continues to carry out several attacks in Somalia creating a lot of insecurity for citizens and foreigners.
Source: Africafeeds.com