N8tive Food and Beverage Bar in collaboration with The National Blood Service (NBS) and Events GH Plus, is organising a blood donation exercise in celebration of World Blood Donor day!
Every year on June 14, countries around the world celebrate World Blood Donor Day (WBDD), a day observed by all member states of the World Health Organization.
The event, established in 2004, serves to raise awareness of the need for safe blood and blood products, and to thank blood donors for their life-saving efforts of giving of blood voluntarily regularly.
Venue sponsors: N8tive Bar, together with Events GH Plus and The National Blood Service, Ghana is organising a mass blood donation drive at the premises of N8tive bar on 49 Kofi Annan street in Accra on Saturday, 15th June 2019, to commemorate WBDD and to augment stock level at the National Blood Service, Ghana.
The first of such event which is planned to take place annually at the popular, health-conscious food and beverage bar in Accra, hopes to see compassionate kind-hearted people to turn up in their numbers to donate in support of this noble cause.
In effect, this would support the NBS in its efforts to manage an under-served national need for supply of blood for patients within the country.
"We are pleased to support the initiative to encourage citizens to become donors, by giving the best gift one can possibly give another person: life", says Kwame Bekoe, founder of N8tive bar. "In 2015, I lost a childhood friend through internal bleeding during childbirth.
One pint of blood, equivalent to a single donation would have saved her life but due to the unavailability of her blood type in the limited time required she passed away, no-one should have to face this", he said.
"As a result, I have committed to donating blood voluntarily once every 4 months, and as a member of the Events GH Plus forum for regular voluntary donors, I know exactly where to do this once I am ready for my next donation", he added.
Kwame Adu-Appeah, founder of Events GH Plus (an events collating,  consultancy, organising branding and marketing firm) is a passionate supporter, advocate and organiser of blood drives across Ghana through his organisation.
He manages a group of over 150 passionate residents of Ghana (including resident expats) who are willing support in a humanitarian way by donating blood regularly. He is poised to encourage others to join the movement together with his passionate team and is thrilled to be part of N8tive Bar's initiative.
The National Blood Service, Ghana team has expressed their gratitude in advance for the collaboration in setting up this event and look forward to a successful blood drive this coming Saturday, 15th June, 2019.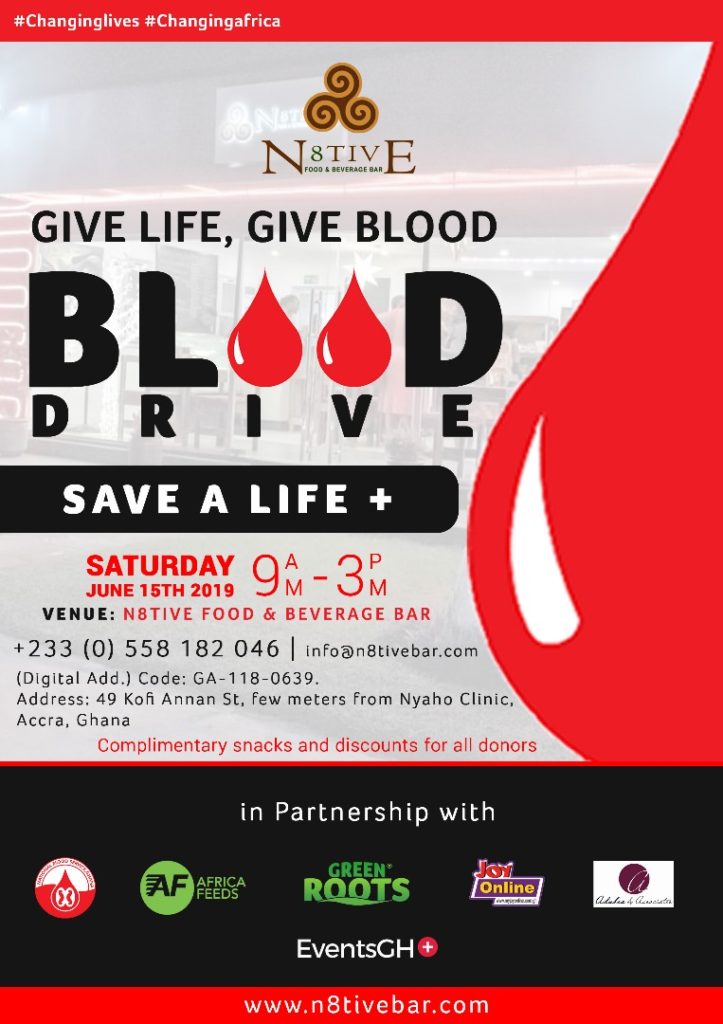 We're urging members of the general public to come along and donate but also learn about the many health and other benefits that exist for donors.
The N8tive bar blood drive initiative will be held annually in June as part of the Group's Corporate Social Responsibility programme.
The 2019 blood donation drive is also sponsored by AfricaFeeds, Greenroots Ghana, myJoyonline, Adubea and Associates, Events GH among others.