The aircraft built by some twenty South African teenagers has finally landed in Egypt's capital cairo after a tour of parts of Africa.
The four-seater aircraft built this year by the teenagers begun it's journey across the continent last month.
The plan was for the teens to fly in the plane covering over 10,000 km across countries like Namibia, Zimbabwe and Malawi.
Cairo was the main destination for the journey, although the teens intend returning to South Africa in the plane.
The team was unable to get the clearance to land in Nairobi before heading to Cairo due to issues related to routing.
17-year-old founder of the project, Megan Werner has reacted to the successful landing in Egypt.
"I really can't believe we've done it," she said.
She however revealed that "When we landed in Egypt the authorities wanted to arrest us."
Werner also said they wanted to "take our passports and licences but luckily after about four hours, everything was sorted out and we got some more fuel and carried on to Aswan."
Landing in Egypt was problematic because Werner's father, Des, a qualified commercial pilot was not with them.
Des Werner who was flying the support aircraft had to stop in Ethiopia when the plane started leaking.
Werner said "Driaan and I flew alone for ten hours without the support aircraft, so it was two teenagers, all by ourselves with no support."
Flying back to South Africa
The final part of the entire adventure will be flying back to South Africa in the same homemade plane.
Werner said "Of course, this is not the end of the journey because we still need to return to South Africa on this plane."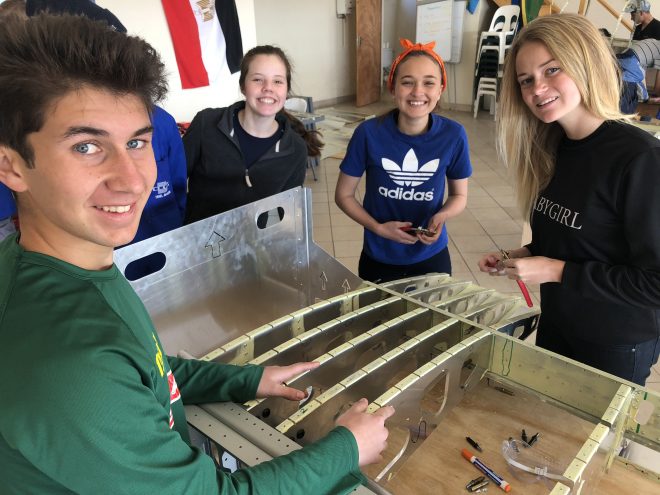 The teenagers plan to make a stop in Uganda, Rwanda and Zambia on their way back to South Africa.
The teenagers are from various backgrounds and from all parts of South Africa. They were supported by an aviation outreach initiative called U-Dream Global.
The program aims to inspire young South Africans.
Source: Africafeeds.com