There has been continuous violence in one of Gambia's suburbs over the death of a suspect in police custody.
The house of the country's anti-crime unit boss Gorgi Mboob has been burnt to ashes following the death of the businessman Ousman Darboe.
Darboe was arrested by the Anti-Crime unit on July 12, 2019. The late businessman was alleged to have received stolen items including a flat screen TV and other valuables.
A police station was also burnt in the night over the matter.
An official of the Serekunda Black Marketing Association, Modou Musa Sowe said when they heard the news of Ousman's demise, they organized themselves to demand justice for their late colleague who has a shop in the market.
He told Africa feeds that Ousman was tortured by the Anti-Crime Unit where he suffered internal bleeding nine days in custody.
He said they marched to the headquarters in Bijilo to show their anger by burning tires on the highway while others held placards.
Protest turns violent
"What surprised me is after Ousman was granted bail after 3 days he was called to report to the Anti Crime Unit in the night after his released and all of a sudden in the morning we heard the news that he died, but we were told before his demise he told them that he was not feeling well and we were told he was rush to the clinic but he later died," Modou Musa Sowe told Africa Feeds.
He said the Deputy Chief of Defense Staff Yankuba Drammeh and the ECOMIC Forces were there present to calm the angry mob.
Meanwhile the Gambia Police Force has issued a statement to explain the circumstances surrounding the death of Ousman Dardoe.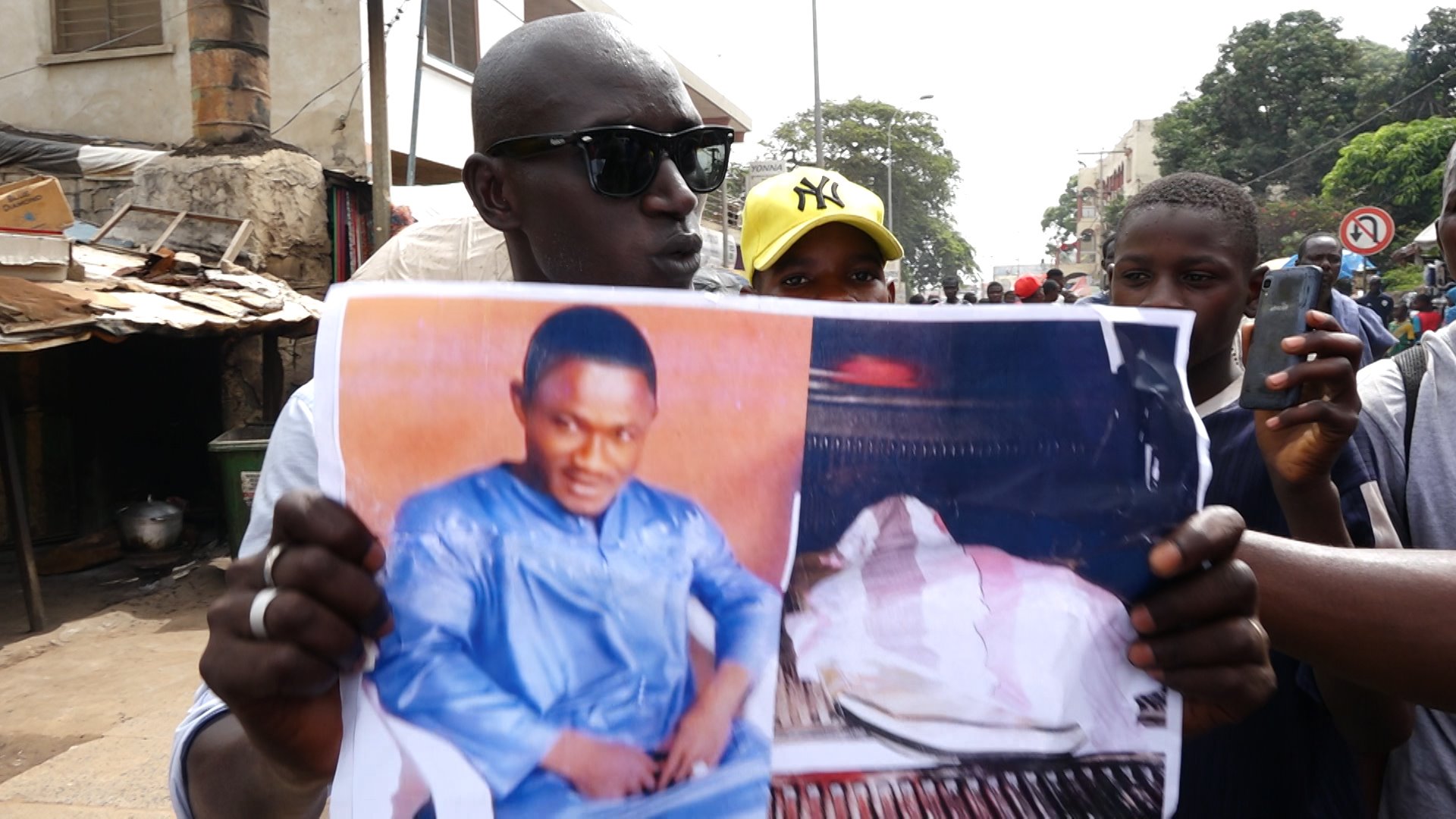 Police explanation
The statement said Osman died of Asthma while in custody.
"Ousman Darboe's name came up during investigations into a Breaking and Stealing incident that occurred at Kerr Serign on 14th July 2019. Suspects in the said case confessed selling items stolen from the Kerr Serign incident to Ousman Darboe," the police statement said.
The statement added that "investigators visited his shop at Serrekunda market where a Flat Screen television, part of the stolen items was recovered in his possession."
"On The 12th July 2019, he was arrested and charged with receiving of stolen properties contrary to the laws of the Gambia.
On Monday the 15th of July 2019, he was granted bail within 72-hours as specified by law and was subsequently reporting on bail.
Ousman Darboe during his detention was said to be an Asthma patient as shown by medical papers tendered by his family which prompted his bail," the statement further read.
The statement also assured that the Inspector General's Office has ordered a "probe into the death of Ousman Darboe and the outcome will be duly communicated to ascertain the cause of death."
Source: Africafeeds.com