It has been two decades since 14 students and one Red Cross volunteer were gun down in cold blood by security forces in Gambia.
In April 2000 students in the Gambia took to the street to protest the raping of a female student and the killing of another male student.
The female student was raped at the independent stadium by elements within the Gambian security force.
Another student in Brikama West Coast Region known as Ebrima Barry was tortured to death by firefighters on the orders of the principal of Barry's school.
The firefighters stripped him naked, shaved his head, beat him, forced him to carry heavy bags of cement, poured cement on him and finally put cement in his mouth and forced him to swallow it.
He got home that night but died the next day from his injuries.
Students protest turns violent
Gambian students decided to hold a protest march on 10 April 2000 with thousands converging outside the Gambia Technical Training Institute as they headed for the Banjul city centre.
They were stopped by police officers, who ordered them to disperse but when they refused the police opened fire on them.
16 people were killed, 14 of whom were students under the Yahya Jammeh regime.
When current president Adama Barrow came into office he promised to bring the perpetrators to Justice.
His government opened a Truth Reconciliation and Reparation Commission to find out the culprits and give recommendation to the government.
While Former President Jammeh was away in Cuba, his then vice President Isatou Njie Saidy who was in charge of the country.
Dr. Njie Saidy appeared before the TRRC and said she didn't order the killings of the students.
But the Army Chief at the time Babucarr Jatta said he deployed his troop on the orders of VP Njie Saidy.
Events disrupted by covid-19
Every year since the killings, families of the victims and other survivors have marched publicly on the streets demanding justice but that is not happening this year due to the coronavirus pandemic.
Gambia has declared a state of emergency restricting people to their homes to prevent the spread of the virus.
But families of victims and survivors are still pushing for justice. One of the survivors of the April 10 student massacre is 37 years old Yusupha Mbye who was shot behind and his spinal cord was destroyed.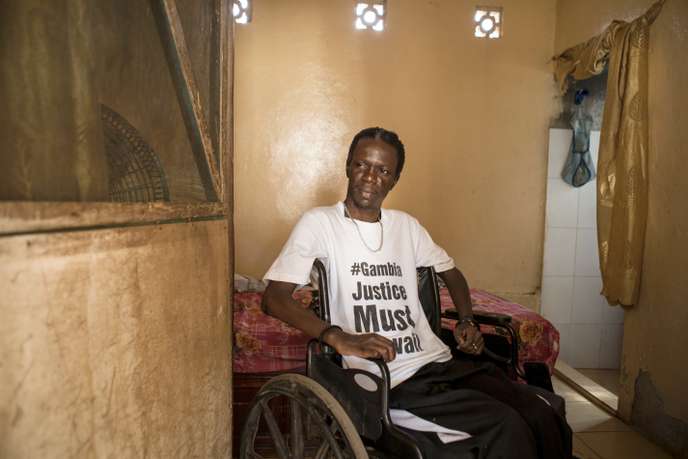 He said sitting on a wheelchair for 20 years is a nightmare. Mbye said "Sitting on wheelchair for twenty good years now is the worst nightmare in my life because I never ever expected that I will sit on a wheelchair."
According to Yuspha Mbye survivors and victims have petitioned the Gambia government to fast track Justice because he believes that the perpetrators should be brought to book.
"I am So frustrated because we petition the government since 2017 and yet still nothing has been done still now so justice delay is justice deny because is three years now so that's not a good sign for the government as we all decided for the change" he told Africa Feeds.
Mr Mbye said he is not confident that Barrow government can change the narrative.
"At this point of time am not convinced with the government at all and I don't trust none of them. Since I meet with the President Barrow in Dakar and he promised me, he broke his promise to me so there is no way I can able to trust again" Mbye said.
The wait still continues for victims and their families to get justice if that would ever happen again.
Source: Africafeeds.com