47-year old Abubacarr Tambadou is Gambia's Justice Minister and has been celebrated among the Rohingya population for his courage to fight for their protection.
Mr Tambadou was born in 1972 and grew up in The Gambia's capital, Banjul and had 17 other siblings.
He excelled at first in sport, winning caps for his country in football but abandoned that for an academic career because his family could pay for his education.
He told the BBC recently that "I'd never intended to study law. But… the first university place I got offered was to do a law degree [at Warwick University] and so I had a career deviation."
Initially working as a state prosecutor in Gambia, Mr Tambadou fled into exile after April, 2000 to escape prosecution from the Jammeh regime.
That took him to the UN court where ringleaders of the Rwanda genocide, were put on trial.
He returned to the Gambia when Jammeh left power and has since 2017 been serving as Gambia's Justice Minister under President Adama Barrow.
Taking on Nobel laureate
Tambadou is the man taking on Nobel laureate, Aung San Suu Kyi taking her to Intentional Court of Justice.
His action led to an order by the International Court of Justice for Myanmar to protect its Rohingya population from atrocities.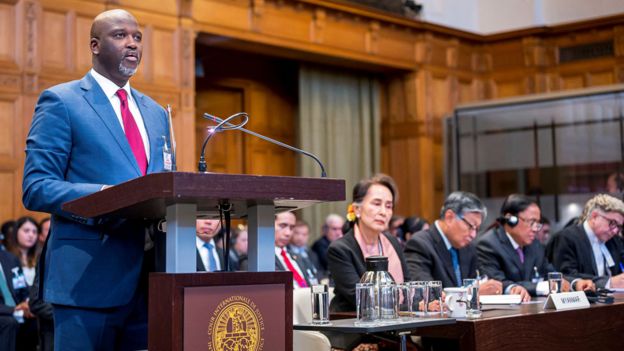 The order given this month according to Gambia was a "triumph of international justice".
In 2019, Gambia surprisingly launched a lawsuit at the United Nations' highest body for disputes between states.
In its suit, Gambia accused Myanmar of genocide against Rohingya in violation of a 1948 convention.
More than 730,000 Rohingya who are minority groups fled Myanmar after a military-led crackdown in 2017.
Many of them were forced into camps across the border in Bangladesh and U.N. investigators said that the military campaign had been executed with "genocidal intent".
The Rohingya are a Muslim minority in mainly Buddhist Myanmar.
Although the court's final decision on this case is expected to take years, the first ruling only addressed Gambia's request for preliminary measures.
It was shocking for many that tiny African country of Gambia will lead such a crusade and Abubacarr Tambadou was the man championing this movement.
Stories of survivors
In his BBC interview he said listening to survivors' stories "I realised how much more serious it was than the flashes we'd seen on television screens."
He said "Military and civilians would organise systematic attacks against Rohingya, burn down houses, snatch babies from their mothers' arms and throw them alive into burning fires, round up and execute men; girls were gang-raped and put through all types of sexual violence."
For the fear of experiencing a genocide similar to what happened in Rwanda, Abubacarr Tambadou said he had to take action.
He told the BBC "It sounded very much like the kind of acts that were perpetrated against the Tutsi in Rwanda.
"It was the same modus operandi – the process of dehumanisation, calling them names – it bore all the hallmarks of genocide.
"I concluded in my own mind, it was an attempt by Myanmar authorities to completely destroy the Rohingya ethnic group."
The Gambian minister said he had no option but to do something about the crisis. "This is about our humanity after all," he said.
"On a personal level I'm disgusted by what I have heard and seen. Professionally I thought Myanmar should be held responsible for these actions [and] a way to do that was to bring a case to the International Court of Justice."
Fighting for justice back home
Back home, there are demands for Yahya Jammeh to be brought to justice.
His supporters are however clamouring for his return, but Tambadou has warned that Jammeh would be arrested and brought to justice if he dares returns.
He said "Nothing would please me more than to see former President Jammeh face up to his crimes he has committed against ordinary Gambians.
"I've luckily never had anything to do with him. I opposed and despised his brutal and savage methods since the day he took power."
It is yet to be seen if he will succeed in ensuring that victims of atrocities under Jammeh finally get the deserved justice they so desire.
Source: Africafeeds.com