African communities are replete with trading centres or markets. In fact they are the backbone of many economies on the continent where trading in various products happen.
Usually goods sold at many markets in Africa are dominated by imported products from Europe, Asia and America.
In Ghana there is one market where only locally manufactured products from mainly local artisans are sold and bought.
But what makes this market special is its eco-friendly policy – banning the use of plastics.
Hundreds of people, locals and expatriates visit the market in Ghana's capital Accra to shop for all kinds of products.
The green market
The Green Butterfly market as it is called is hoping to promote locally produced products and at the same time save the environment from plastics.
Exhibitors or traders at the market located at the Dubois Centre are mostly women and small scale businesses.
They all struggle to break through so such a platform represents an important catalyst for what they do.
The eco-friendly policy where plastics are disallowed for packaging products for customers has become a major magnet for shoppers.
"So when we first started, I did want to have it as an eco-friendly market but it hadn't originally started out that way because it takes time to really get people into that lifestyle," Yasmeen Helwani, the brain behind the market told Africa Feeds.
Helwani is a singer and music writer but launched an artisanal career over ten years ago. She said rolling out such a novelty of an eco-friendly market was challenging but worth it.
"So the first step was to get them to actually want to partake in what we were doing and then the second step is to convince my team to go away from the plastics pollution and eventually I banned plastics bags here at the event.
And every single one of these businesses uses paper bags today instead of plastics bags. We are starting that change that we want to see in our country, but we are starting it right here in our own little corner," Helwani added.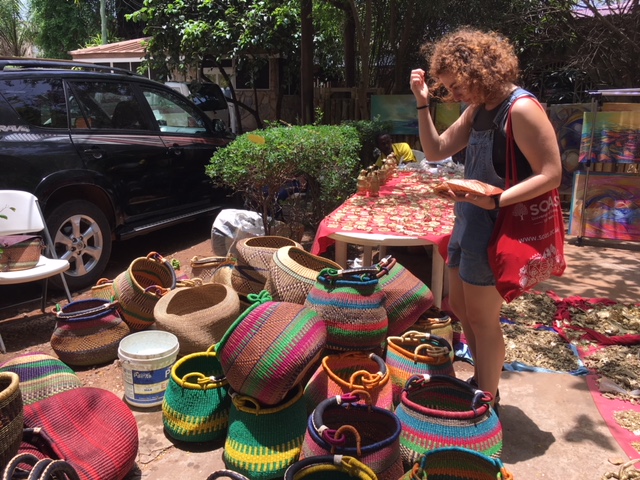 Green revolution
Managers of the market have told Africa Feeds that they want to spark a green revolution to protect the environment.
Over hundred businesses now sell at this Market, attracting record numbers every month.
Some traders told Africa Feeds that the market is significantly projecting their businesses and the eco-friendly policy is key to that success.
One female traders, Fulera Seidu said "There is network, people follow up by calling you to reach out on you, and this has increased our livelihood. We are consciously advocating for the use of eco-friendly and recycled materials."
A male trader from however wants "this market to grow to a higher level so that we can cross the boundary with it. We could see that some of them are beginning to hear of us and they are coming in to do what we are doing."
All kinds of artisanal products are sold at the market making it exciting for patrons who have now made it a routine to come shopping every weekend.
The plastic free agenda
Some of them who support the ban on plastic use are amazed how this market is able to take the lead in dealing with the plastic waste menace.
A female visitor told Africa Feeds "I come to this market because it is an opportunity to support local businesses, it's like a lot of products that are sold here are sold in re-usable jars, and cloth and things like that and I am very much eco-friendly, anyway we could help out  with being environmental."
"Yeah, its all eco-friendly, it's a green market and this is what we need to support in this day and age especially in Accra where we have a big problem with plastics and pollution," another visitor said.
The market opens only on weekends and the current location at Dubois Centre is rented by the team but Helwani and those behind this initiative say they want to eventually move to a bigger location in order to open daily and extend the model across the country.
"We are really big now right now, in terms of numbers I don't know how much bigger we are meant to get but this is already really nice, how we are functioning currently, eventually my dream will be to be able to see us have a home in Accra, somewhere close by that we could say our piece of land that people can come and look for us there, and may be every week or maybe every Saturday or something, you know, so that is my dream to have that," Helwani said.
Supporting local businesses especially female artisans is a major goal but playing a role in protecting the environment from plastics is a key inspiration for managers of the market.
With this Green Butterfly market gaining grounds, it appears it could be the start of a revolution to make Ghana plastic waste free in the coming years.
Source: Africafeeds.com