Tiring and a frustrating exercise – the cry of thousands of parents and their wards who trooped Ghana's Independence Square to obtain placement into high schools.
Placement in schools in Ghana for the past ten years has been computerized. The Computerized School Placement System, CSPS allots basic school students their places of studies in high schools.
That system until recently proved effective and for many is still effective but the government's free education policy meant there were more numbers than school facilities to accommodate them.
The large numbers have become a major challenge for those managing the system forcing thousands of parents and prospective students to besiege the Black Star Square on Monday with a myriad of issues waiting to be resolved.
The issues ranged from pupils who had not been placed into any of the 750 public senior high schools in the country.
Others who had schools had been offered options which were inimical to their own progress.
A parent who spoke to Africa Feeds complained of the distance her ward was to travel to get to school.
Parents worried
She said "I live at Oda with my daughter, she's been offered Accra girls at Kaneshie. There are no boarding facilities, how are they expecting her to commute to school each day? I can't rent an apartment for a 16 year old to live alone, I just can't do that".
And then there were parents whose wards had been rejected by their schools with reasons that their names were not contained in the database.
A particularly livid parent called on the president to intervene. "Is this what we get for the Free SHS? My son gained admission but I visited the school only to be told his name is not on the board.
I returned here for some answers but I haven't been able to speak to anyone. The entire place is choked and there is no one to address our challenges. Is this the Free SHS we were offered?" she said.
The chaos and scuffles have led to some children passing out as a result of the congestion and heat.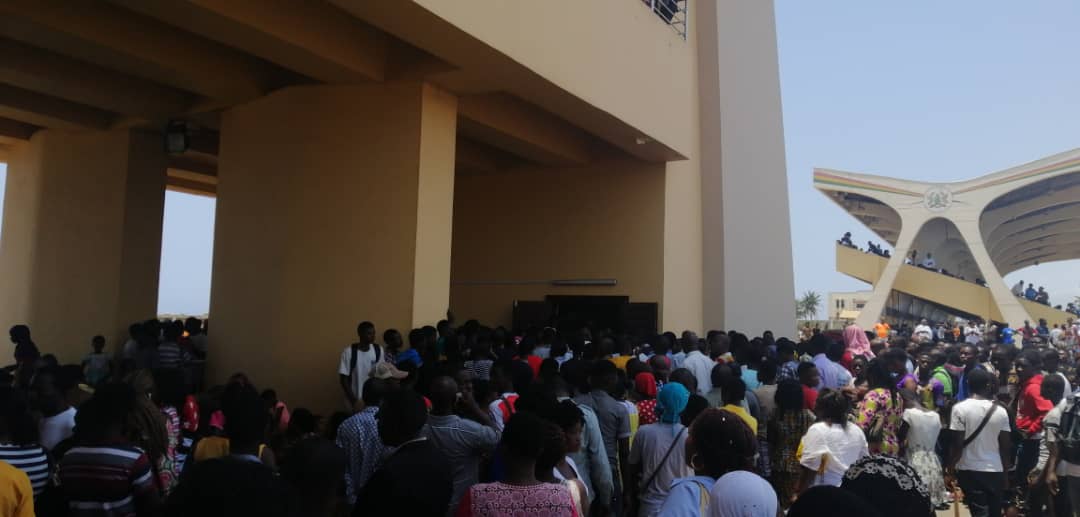 Huge numbers
Officials from the education ministry and CSPS system who arrived late called off the exercise as a result of the congestion and the overwhelming numbers.
The decision angered parents with one telling Africa Feeds the processes must be decentralized to eliminate the challenges.
It is not clear how the government intends dealing with the crisis this year as parents remain anxious and worried.
Ghana is implementing a free secondary education policy which means successful applicants who get placed in schools don't pay fees.
The policy was meant to widen access to secondary education and remove cost barriers. Over 500,000 children are beneficiaries across Ghana so far.
Source: Africafeeds.com