Health care service delivery in most parts of Africa is a challenge and that puts the lives of patients at further risk.
The struggle that comes with visiting hospitals and not being attended to on time means, patients are left with nothing but to resort to alternative and dangerous healthcare procedures.
A group of health practitioners from Ghana has developed a mobile service platform to reduce the stress of accessing healthcare.
That means millions of health care seekers who travel distances just to hospitals can heave a sigh of relief thanks to what is called the Talamus health platform.
It's a new healthcare service delivery platform developed to reduce the stress patients in Africa go through.
It connects all the major health players such as doctors, clinics, patients, laboratories among others unto one platform via a mobile phone or tablet.
When Africa Feeds met the chief operating officer for Talamus, Joshua Owusu-Ansah in his office in Ghana's capital Accra, he revealed that the platform has been serving patients for four years now in Ghana, Nigeria and South Africa.
How the platform works
Explaining how the innovation works Owusu-Ansah said all patients have to do is install the platform's app on a mobile phone.
"If a patient now needs healthcare, all you do is install the app, from the app store, you go in there and we have various forms of finding healthcare.
You can find a doctor by their speciality, you can find a doctor by their location or by their facility name."
He added that all a patient then does is "to book an appointment with this doctor whiles booking an appointment you can give a short description of what is happening to you."
"If the doctor is done and says these are the medications you need, the patient can decide where to get the medication from" Owusu-Ansah added.
Patients pay nothing for using this platform. Owusu-Ansah said the essence of this new innovation is to ensure that no one is left behind in accessing health care.
"We are in Africa know how difficult it is to access healthcare. When a patient is sick, its left to try and coordinate all the different actors in healthcare.
So this is a patient who is sick, this is a patient that is already vulnerable. Now having to do all these trips makes accessing healthcare burdensome," he said.
"Because they know they are going to stress so much, some patients just stay at home or look for other alternatives. Our aim at Talamus is to reduce this burden of accessing healthcare, Owusu-Ansah added.
Improving health care  
At a health facility in Accra, Richard Boampong John is busy at work ensuring that clients get the best service.
John is in charge of helping that Talamus works effectively at the Beaver Clinic Limited, a dental facility in Accra.
The dental clinic is hooked unto the Talamus system, helping it to serve patients online. Boampong explained that such a system is crucial for users and facilities.
"With Talamus also, it's kind of linking people in different geographical locations, because they have this particular feature on it that you can tele, it's like a video consultations. It also takes away, most of these documents or like paper work, it goes paperless for us," he added.
The system looks and sounds great but one challenge remains. That is access to internet service in remote communities.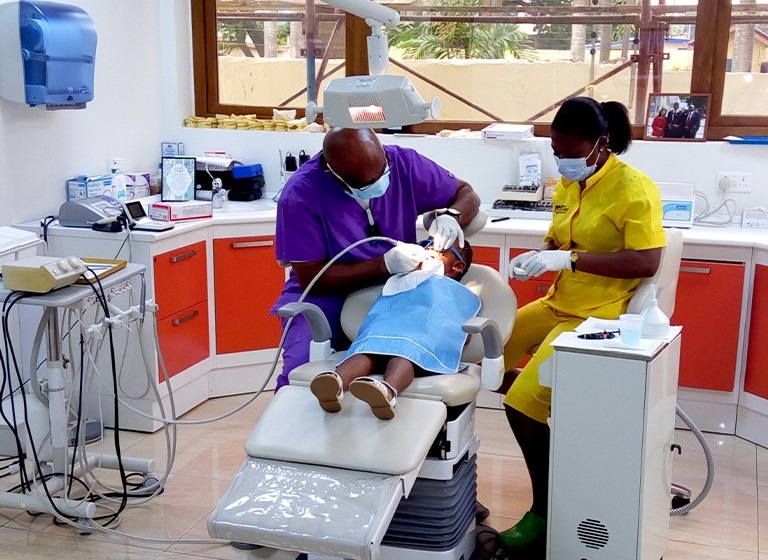 Owusu-Ansah hoped that African governments will resolve such issues so Talamus can be used by many patients who need it.
But Talamus also plans to expand its operations further in other African countries beyond Ghana, South Africa and Nigeria.
"Talamus was built from the ground up to be Pan African. Our idea is that people in Nigeria should be able to travel to Ghana and not have to carry medical folders, hard copy medical folders," Owusu-Ansah said.
He revealed that "If you are in Ghana for a business trip and you fall sick, you don't need to struggle at all. If you are on Talamus, the doctor can easily access your medical records and we be able to take care of you. And so next year we are doing a lot of expansion into various African countries."
Medical innovations such as Talamus are beginning to receive global recognition and could in the coming years be a game changer in healthcare service delivery, thanks to the power of technology.
Source: Africafeeds.com