Egypt on Wednesday held a military funeral in Cairo for its former President Hosni Mubarak, who died on Tuesday at the age of 91.
Hosni Mubarak held power for 30 years until he was ousted in 2011 in an uprising against corruption and autocratic rule.
His coffin was draped in the Egyptian flag with President Abdel Fattah al-Sisi, leading a procession for his funeral.
President Sisi has expressed "deep condolences" to Mubarak's family.
He said in a statement that the former president "[was] one of the heroes of the glorious October war, when he led the air force during the war that restored dignity and pride to the Arab nation."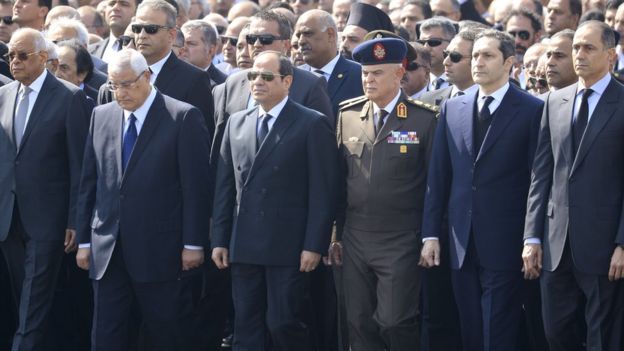 The former Egyptian leader died in intensive care weeks after undergoing surgery.
Shortly after he was ousted in an uprising, Mubarak was arrested and detained for several years.
He was then sentenced to life in prison following a trial for conspiring to murder 239 demonstrators during the 18-day revolt.
The court however freed him in 2017 after he was cleared of all charges.
Source: Africafeeds.com